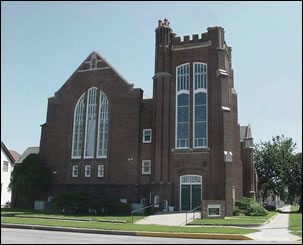 The main reason audiophile Chad Kassem developed the studio was to record the remaining blues legends in first-class fashion. The work has not gone unnoticed. BHS has drawn national attention, including extensive coverage by NPR's All Things Considered, CBS Sunday Morning, CNN and the Associated Press.

The studio was designed by Neil Muncy and wired with premium audio cable from Belden and Canare with gold-plated connectors. More than $60,000 was spent on a new electrical service that includes the finest panels, breakers and surge suppression equipment. Kansas Power and Lighting installed a new transformer to provide the studio with its own power source. No expense has been spared to provide clean AC power and perfect grounding paths. The main sanctuary is wired for 200 amps of stage lighting, eight camera lines, press feed and video distribution throughout the building.
Enjoy the relaxed, Midwestern hospitality of Blue Heaven Studios, a world-class recording studio created in a gothic-style church in Salina, Kansas. Formerly the First Christian Church, the main studio (sanctuary) recording area is 77 feet long, 52 feet wide and 45 feet high and seats 400 as a very intimate concert hall. It was designed with natural acoustics in mind, before microphones were utilized. For comparison, Abbey Road Studio One is 94 feet long, 55 feet wide and 42 feet high. Our control room is located at the rear of the sanctuary. Studio B is an isolated room with a floating floor, located next to the control room.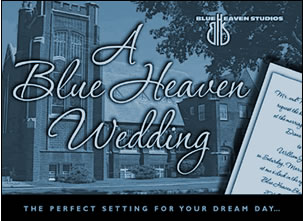 This unique studio features a 900 square-foot kitchen, a large recreation area with pool, foosball and ping-pong tables and darts as well as a private lounge for musicians.