Friday, October 19th
Saturday, October 20th, 2007

Blue Heaven Studios
201 S. Eighth Street
Salina, Kansas 67401
785-825-8609
---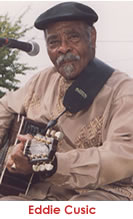 Eddie Cusic

Eddie Cusic, also known as "Eddie Q," was born in Wilmot, Mississippi in 1926. As a 12 year old, he fashioned a strand of bailing wire to a wall on his family's farm and using a broken bottleneck, created a lyrical whining effect on the strings of this homemade diddly-bow. He'd heard blues performed at suppers and community get-togethers. At age 15, Cusic bought himself a six-string acoustic Gene Autry model guitar and his studies increased in seriousness.

At the beginning of the 1950s, Cusic formed a three-piece band called the Rhythm Aces that included then-unknown Little Milton Campbell. The group played clubs in Leland and Greenville, Mississippi and at juke joints in the surrounding countryside. The band split when Cusic joined the army in 1952. Later, as Campbell gained fame, he often attested to the early influence Cusic had on his guitar playing.

Coming out of the service, Cusic settled in Stoneville, Mississippi where he worked in a Ford automobile plant and at a USDA meatpacking plant. He later worked at a quarry. While his focus had shifted from music to supporting his family through the more conventional day jobs, Cusic never did give up on his playing, and he still performed at area venues and festivals, often teaming with guitarist James "Son" Thomas. In just the last decade, Cusic retired from those day jobs and is finally available as a full-time musician. A renewed interest in American roots music has brought well-deserved attention to Cusic's traditional playing style. He recorded his long-overdue debut in 1998, titled I Want To Boogie, for Hightone Records.

"I come up the hardest way you can think," Cusic says. "I think about hard times is how I get my blues."
---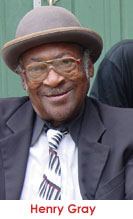 Henry Gray

He returned to his native Louisiana in 1968 and in plenty of time to become known as one of the greatest of that rich blues scene, but Henry Gray made his truly indelible mark on the blues while in Chicago in the 1950s and '60s. In those days, Gray was in the company of Otis Spann and Sunnyland Slim as the most in-demand players of the time. And of course a 12-year run with the great Howlin' Wolf forever secured Gray's place in blues history.

Gray was born in January 1925 in Kenner, Louisiana to parents who encouraged their son's interest in piano but forbade his passion for the blues. By age 15, Gray had secretly advanced himself to the point of securing a paying gig. He finally got the nerve to tell his father he aimed to be a bluesman. "When my father saw that I could make money playing the blues, he liked it alright," Gray recalls.

Gray arrived in Chicago in 1946, fresh from a stint in the Philippines during World War II. Strongly influenced by barrelhouse master Big Maceo Merriwether, Gray's rapidly escalating talents were soon in heavy demand. After starting out with Little Hudson's Red Devil Trio, Gray appeared on classic sides by Jimmy Reed, Bo Diddley, Jimmy Rogers, Little Walter, Billy Boy Arnold and Morris Pejoe before joining the Wolf in 1956. He can also be heard on many of J.D. Miller's Louisiana Excello recordings of the '50s and '60s.

Gray left Wolf's band in 1968 and returned to Alsen, Louisiana to help his mother with a family fish market business shortly after his father had died. He didn't stay out of music long, however, and has for the past 40 years stayed busy on the international festival and club circuit. Since 1988, he's made at least six recordings as a bandleader.

---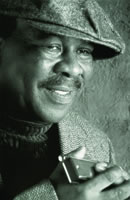 Chicago Bob Nelson


He was born in Louisiana, probably is best known in Atlanta and now lives in Boston, but in the 1960s, Bob Nelson was mostly found in Chicago's blues clubs. So steady was Nelson's attendance on each end of the city that Muddy Waters took to calling him "Chicago Bob."

Born in Bogalusa, Louisiana in 1944, Nelson's family became dairy farmers in a move to Kentwood, Louisiana when he was around 10. Nelson's father, who played harmonica and upright bass, was friends with musicians Lazy Lester, Slim Harpo, Lightnin' Slim and Silas Hogan. The young boy learned from visiting musicians and heard Zydeco, Cajun, Swamp Pop and blues at barbeques. By age 8, he was playing harmonica.

Nelson spent his childhood summers visiting an aunt in Chicago. He was too young to get into the clubs, but he heard Jimmy Rogers, Big Walter Horton, Johnny Shines and others on Maxwell Street. He'd listen diligently to the music and then rush to his aunt's house to try to recreate the sounds on his harmonica. In the mid-1960s, Nelson moved to Chicago and became a fixture at the clubs, sitting in and occasionally touring with Waters, Howlin' Wolf, Earl Hooker, Buddy Guy, Junior Wells and JB Hutto.

In 1965, Nelson joined the band of Luther "Georgia Boy" "Snake" Johnson and moved with him to Boston. For the next 10-plus years, Nelson was a regular in Johnson's outfit though he'd regularly leave to join John Lee Hooker or Muddy Waters on the road. When Johnson died in 1976, Nelson took over his band. A couple years later he moved to Atlanta, a city he liked since visiting on tours with John Lee Hooker.

Nelson became the lead singer and harp player for the Heartfixers, a band that featured Tinsley Ellis on guitar. He stayed with that group for five years, recording two albums. In 1986, Nelson actually helped in the physical construction of Atlanta blues club Blind Willie's. Shortly after it opened he led the house band all the way until 2000. During that period, he recorded for the King Snake, Wild Dog and Planis Phare labels.

Health problems stalled Nelson's career for a couple of years. After recovering from heart surgery in 2002, Nelson moved back to Boston where he performs regularly and recorded Flyin' Too High for 95North Records in 2006.

---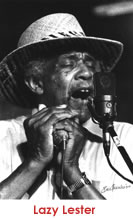 Lazy Lester
Leslie Johnson was born June 20, 1933 in the small town of Torras, Louisiana and was raised mostly in Scotlandville, a suburb of Baton Rouge. As a boy, he worked at a grocery store, where he purchased a harmonica and Little Walter's famous "Juke" record. Lester began to blow harp and later learned to strum his brother's guitar.

It was in the mid-1950s that fate turned Lester's way. Lester was living in Rayne, Louisiana at the time and was on the bus riding home. Lightnin' Slim, who was already an established recording artist, was also on the bus and was headed to Crowley to cut a record at Jay Miller's Studio, where so much of the material for the Nashville-based Excello Records was being recorded. Lester stayed on the bus and accompanied Slim to the studio. When they got there, the scheduled harp player didn't show for the session. Lester told Slim that he thought he could handle the harp parts for the session. Remarkably, Slim and Miller gave Lester that chance, and he did not disappoint. A classic pairing was born, and Lester became a mainstay on Slim's Excello recordings and his gigs.

Miller was impressed by Lester's work, and in 1957 Lester debuted as a lead artist on Excello. Before Lester's debut record release, Miller had decided that "Lazy Lester" had more of a ring to it than "Lester Johnson." Lester's first legitimate hits came in 1958 with the release of "I'm A Lover Not A Fighter" backed with "Sugar Coated Love." Those two songs established Lester as a star. He hit again with the follow-up record, "I Hear You Knockin'"/"Through The Goodness of My Heart." Lester remained a regular Excello artist, making 15 records for the company.

In 1975, Lester moved to Pontiac, Michigan. He retired from music until the late '80s when he recorded Lazy Lester Rides Again for the Blue Horizon label, winning a W.C. Handy Award. That led to a deal with Alligator Records. Since, he's recorded twice for Antone's and one direct-to-disc for APO Records.

---
The Muddy Waters Band

featuring Pinetop Perkins, Steady Rollin' Bob Margolin, Willie "Big Eyes" Smith and Calvin "Fuzz" Jones

Pinetop Perkins

Pinetop Perkins has made a living playing blues since 1926. He's created a style that's influenced three generations of piano players.

Born Joe Willie Perkins in Belzoni, Mississippi in 1913, this great piano master actually started out playing guitar at house parties and honky tonks. One very rough gig in the 1940s forced Perkins to switch instruments. Perkins was performing at a club where, earlier, a man had locked his girlfriend in the bathroom. When the woman finally escaped, knife in hand, Perkins, who was on break, was the first person she saw. She hacked away, causing serious tendon damage in Perkins forearm and ending his ability to properly grip a guitar.

Perkins switched to piano and came under the tutelage of Clarence "Pinetop" Smith, who with "Pinetop's Boogie" had one of the more popular tunes from the boogie-woogie era. Perkins started performing the song himself and eventually started using the name "Pinetop."

Perkins worked primarily in the Mississippi Delta throughout the '30s and '40s and spent five years with Rice Miller on the King Biscuit Time radio program on KFFA in Helena, Arkansas. He also toured extensively with Robert Nighthawk and backed him on an early Chess session. After briefly working with B.B. King in Memphis, Perkins barnstormed the South with Earl Hooker during the early '50s. The pair recorded for Sam Phillips' famous Sun Records in Memphis in 1953.

But Pinetop is perhaps best known for holding down the piano chair in the great Muddy Waters Band for 12 years, replacing Otis Spann in 1969. Pinetop helped shape the Waters' sound of the 1970s with his brilliant piano solos.

In 1980, Perkins and other band members left Waters to form the Legendary Blues Band. Perkins left Legendary earlier than the others to finally, after all those years as a sideman, concentrate on a solo career. Since, he's recorded extensively, been featured on many nationally syndicated news and music shows, appeared in numerous movies and headlined nearly every major blues event worldwide.



Steady Rollin' Bob Margolin

There are no musicians better qualified to continue the tradition of Chicago Blues than those who learned directly at the feet of the masters. And Steady Rollin' Bob Margolin learned from the master. From 1973 to 1980, Margolin played guitar in the band of Muddy Waters, touring and recording and learning to play Muddy's music exactly as Muddy wished. The lessons were not polite nor were they gentle, but they most certainly have been enduring.

Margolin was born in Boston in 1949 and raised in nearby Brookline, Massachusetts. Inspired by Chuck Berry, he started playing guitar in 1964 and soon joined a rock band. He followed the path of Berry back to the blues and was especially taken by the music of Muddy Waters.

In August 1973, Margolin went to a Muddy show at Paul's Mall in Boston. Muddy had seen Margolin in opening acts previously and knew that the younger guitarist was trying to learn the "old school" style. Muddy had just lost long-time guitarist Sammy Lawhorn and hired Margolin basically on the spot. Margolin dedicated himself to giving Muddy what he wanted on the bandstand. In fact, Muddy grew to trust Margolin to be the conduit between their style and unfamiliar musicians, bringing Margolin with him on special gigs like the Band's Last Waltz concert, and recording sessions like The Muddy Waters Woodstock Album, when the rest of the band stayed behind. All the while Margolin absorbed – on the stage, in the studio, from the informal lessons and scolding.

In 1980, Muddy's band dissolved over business problems. Margolin formed his own band and applied the lessons he'd learned. He's since recorded as a leader for the Powerhouse, Alligator, Blind Pig, Telarc and Steady Rollin' Records. He maintains a packed touring schedule, produces reissues of Muddy's late-'70s Blue Sky albums for Sony/Legacy and is also a senior writer for Blues Revue magazine.



Willie "Big Eyes" Smith

Willie "Big Eyes" Smith was born in Helena, Arkansas in 1936. At the age of 17 he ventured to Chicago where he saw his first Muddy Waters performance. He was so taken by the music that he stayed in Chicago and picked up the harmonica.

In 1954, Smith formed a trio with drummer Clifton James and gigged around the city for a few years. Around the same time, he played harp in the groups of several other artists, including Johnny Shines, Arthur "Big Boy Spires" and Bo Diddley. That's Smith's harp work on Diddley's 1955 classic "Diddy Wah Diddy."

Smith got to know Waters and was inspired to learn drums by Fred Below, Waters' drummer at the time. In 1957, he switched from harp to drums in Little Hudson's Red Devil Trio. And after gigs or between sets, Smith started to sit in on drums with Waters' band. Waters invited Smith play drums on a 1959 recording session and in 1961, Smith replaced Francis Clay as Waters' fulltime drummer.
 
The mid-'60s were lean times for the blues, and Smith found himself working in a restaurant, driving a cab and collecting welfare. He packed his drum kit in the closet for several years. One night in 1968, Smith decided to attend a Waters performance. He asked to sit in with the band, and the next day, Waters asked Smith to rejoin him for another historic run that lasted until 1980.

Smith then co-founded the Legendary Blues Band with Pinetop Perkins, Louis Myers, Calvin "Fuzz" Jones and Jerry Portnoy. The group was nominated for six Grammy awards, recorded four critically acclaimed albums on the Ichiban label, backed up Buddy Guy, Howlin' Wolf and Junior Wells, toured with Bob Dylan, the Rolling Stones and Eric Clapton and appeared in the movie The Blues Brothers as street musicians backing John Lee Hooker.


Calvin "Fuzz" Jones
As the bass player for the Muddy Waters Band for nearly two decades, Calvin "Fuzz" Jones laid the bedrock for some of the best blues ever performed. Along with Pinetop Perkins, Willie "Big Eyes" Smith and Bog Margolin, Jones formed what was essentially the final Muddy Waters Band. They worked behind the master until 1980 when they left to form the Legendary Blues Band, a project that Jones and Smith continued to lead into the 1990s. The collective rhythmic feel and personality of Jones, Perkins, Margolin and Smith became synonymous with Chicago Blues and has made each of those men a legend in their own right.

Born in 1926 in Greenwood, Mississippi, Jones learned to play the violin and bass guitar at an early age. His music took him to Chicago where Jones worked with Waters, Howlin' Wolf, James Cotton, Big Daddy Kinsey, Kim Wilson, Snooky Pryor, Otis Spann and many others.

He's since returned to his native Mississippi but still works occasionally with his old cohorts. In 2004, Jones first performed at Blue Heaven Studios as part of Kenny Wayne Shepherd's 10 Days Out…Blues From The Backroads project.

---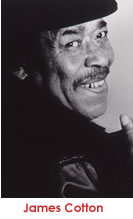 James Cotton

The musical pedigree of Grammy Award winner James Cotton consists of a veritable who's who in the world of the blues. Inducted into the Blues Hall of Fame in 2006, the Smithsonian Institute in 1991 and winner of countless W.C. Handy Awards, he has shared the stage with Muddy Waters, Howlin' Wolf, B.B. King, The Rolling Stones, Johnny Winter, the Allman Brothers, Santana, Bonnie Raitt, Led Zeppelin, Janis Joplin, Sam and Dave, The Grateful Dead and many others.

Cotton was born July 1935 in Tunica, Mississippi. He was orphaned at the age of nine and raised for the next six years by his mentor, Rice Miller (Sonny Boy Williamson II). As a young teenager, Cotton began gigging around Memphis with people like Hubert Sumlin, Joe Willie Wilkins and Willie Nix. He befriended Howlin' Wolf and joined forces with him, playing Mississippi and Arkansas juke joints for two years. During that time, Cotton hosted his own afternoon radio show in West Memphis, Arkansas and also recorded "Cotton Crop Blues" and "Straighten Up Baby" on Sun Records in 1953.

In 1954, when Muddy Waters needed a harmonica player to replace Little Walter, he found Cotton playing a club in Arkansas and took him to Chicago. Initially, Chess Records insisted on continuing to use Little Walter on Muddy's recording sessions, but finally in 1958 Cotton made his Chess debut backing Muddy on "She's Nineteen Years Old" and "Close to You."

In 1966, Cotton formed his James Cotton Blues Band, which continues today. He recorded for Vanguard, Prestige and Loma before making his first full-length album in 1967 for Verve Records with a band that included guitarist Luther Tucker and drummer Sam Lay. Cotton has since recorded for Capitol, Alligator, Blind Pig, Tomato, Telarc and several other labels.

The year 2007 marks Cotton's 63rd as an entertainer. Though throat problems have ended Cotton's once-ferocious singing voice, he remains a masterful instrumentalist.
---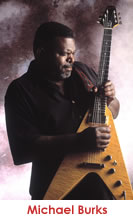 Michael Burks

Michael Burks plows through the blues with relentless power in a show noted for incendiary burn and sweat-drenched passion. A meaty, honest guitar tone and real investment in his craft have made Burks one of the blues world's fastest rising stars.

While he was a W.C. Handy Award nominee in 2000 for Best New Artist, Burks is in fact a seasoned veteran in every sense. Born in Milwaukee in 1957, Burks was immediately surrounded by the blues. His father, Frederick Burks, worked in a Milwaukee steel mill by day and spent his evenings playing bass in the city's blues clubs, often backing touring legends like Rice Miller. But the elder Burks' fingers were crushed in a press that made castings for engine blocks, ending his ability to pick the notes on his bass. Still, Frederick Burks encouraged his young son by showing him chords on the guitar and giving him a stack of classic blues 45s from which to listen and learn.

Michael Burks' first gig came at age six, when, during a family trip to southern Arkansas, Burks took the stage with his cousin's band and thrilled an unsuspecting audience. When he was 13, Burks visited his mother in California and won an audition over 20-some other guitarists for a spot in a touring pop band called Michael Clay & the Fabulous Souls. Shortly thereafter, Burks and his father returned to his father's native Camden, Arkansas and opened a juke joint called Bradley Ferry Country Club where Burks played in the house band four nights a week until the club closed when he was coming into adulthood.

For the next 13 years, Burks worked a day job as an electronics mechanic at Lockheed Martin. The weekends were for music, and he used the limited time he had to build a local following. Finally, in 1993, Burks became a fulltime bluesman.

After years of performing without a record, Burks released his self-produced debut, From The Inside Out in 1997, confidently announcing his intention to take the blues world by storm. Blues Access deemed the record to be "the most impressive Indie in recent memory." The gigs and the acclaim have really picked up for Burks since he signed with Alligator in 2001 and released Make It Rain followed in 2003 with I Smell Smoke.
---
Saturday, October 20
---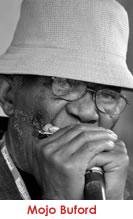 Mojo Buford


George Buford's nickname comes from perhaps his old boss' most popular song. In the 1960s, fans requested Buford's version of the Muddy Waters staple "Got My Mojo Working" so often that Buford became known simply as "Mojo."

Buford, who was born in 1929 in Hernando, Mississippi, moved to Memphis when he was 12 and soon took up harmonica after meeting and seeing the performances of artists like B.B. King and Little Walter.

In 1954, Buford moved to Chicago and formed a group called the Savage Boys. After meeting Muddy Waters, the group eventually changed its name to the Muddy Waters Jr. Band and served as the fill-in group for Muddy's Chicago club gigs when Muddy was on the road. Buford said that while he'd been playing harmonica and blues for years prior, he didn't "really" learn the blues until he met Muddy. "Muddy turned my black ass blue," Buford has said.

In 1959, Buford replaced George "Harmonica" Smith in the Muddy Waters Band and toured all around the country for the next three years. One gig came in Minneapolis at the Loon Club. There, Buford was offered a job as the house act. The money was good, and so he moved to Minneapolis in 1962 to begin his own group. Around that time, he recorded a couple of LPs for Vernon and Folk-Art, and this is also when he first adopted the "Mojo" moniker.

Buford returned to Muddy's band in 1967 for a year and then put in a longer stint in the early 1970s. He then returned to Minneapolis, where he lives today, and worked with Sonny Rogers, S.P. Leary, Lazy Bill Lucas, Pat Hare, Pee Wee Madison and others. He returned to Muddy once again in 1980, replacing Jerry Portnoy and becoming Muddy's last harmonica player.

Buford has recorded as a bandleader for Mr. Blues, JSP, Blue Loon, Fedora and P-Vine. He still performs regularly and has worked relatively recently as the singer for James Cotton's outfit.
---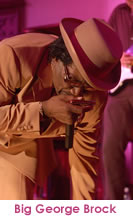 Big George Brock

"You don't hear blues today. You think you do, but you don't. I'm talking about the younger generation. You're hearing crossover. To me, blues is…I don't know. Big George Brock. That's about as close – not close – it is the blues." – Sonny Payne, the regular host of KFFA's King Biscuit Time radio show in Helena, Arkansas since 1951

Heavyweight Champion of the Missouri Blues Harp, Big George Brock is taking on all comers. "I am the only musician with a gold belt. Whenever I look at the belt on the mantel, I feel a sense of pride. I challenge any musician who thinks they're bad enough to remove it from my waist." Brock brings that same bravado to the stage.

Born in Grenada County, Mississippi in 1932, Brock did not come from a musical family. Of his two parents and 16 siblings, he was the only one who pursued music. His father bought him a harmonica when Brock was nine years old and by age 12, he was performing at Saturday night fish fries with friends Lee Kizart and Big Jack Johnson. Brock was also an accomplished boxer in his youth, not hard to envision when you see this enormous man with catcher-mitt hands. When Brock cups a harp it looks like King Kong trying not to hurt the girl.

Brock moved to St. Louis in 1953 and continued as a blues performer. He soon opened his Club Caravan, which booked acts like B.B. King, Howlin' Wolf, Muddy Waters, Jimmy Reed, Gatemouth Brown and Albert King. Brock performed with them all. While he had many opportunities to record – including with Chess Records – and to tour, he preferred staying in St. Louis and operating his club. Brock finally closed Club Caravan in 1970, under tragic circumstances. Brock had thrown out an unruly customer. The man returned with a gun and fired at Brock. The bullets missed and sprayed through the kitchen wall, hitting and killing Brock's wife. Brock, in his mourning, closed the club.

Brock didn't make his recording debut until he was in his 60s when he released a pair of self-produced 45s followed by an LP and a CD reissue. In 2005, Cat Head Records released Brock's Club Caravan, and in 2006, APO Records released Heavyweight Blues, recorded at Blue Heaven Studios.

---

GOIN' TO THE MARDI GRAS

Robert Parker
Robert Parker knocked the socks off the nation in 1966 with his smash "Barefootin'," a tune that jumped to No. 2 on the R&B charts and No. 7 on the Pop charts. Covered by Wilson Pickett, Rufus Thomas, Johnny Winter, Pee Wee Crayton, Jimmy Buffett, Tommy McLain, Alabama, Barefoot Jerry, Johnny Rivers, Pete Townshend and a slew of others, it'd have to be considered a standard by now, 41 years later.

Parker, born in New Orleans in 1930, was actually an accomplished alto saxophonist before "Barefootin'," having recorded or toured with Earl King, Fats Domino, Ernie K-Doe, Irma Thomas, Joe Tex, Huey "Piano" Smith, Frankie Ford and Professor Longhair. In fact, it was Parker who named Fess' group, "Professor Longhair's Shuffling Hungarians." You can hear Parker's alto sax on the 1949 Fess hit "Mardis Gras in New Orleans" on Atlantic. He made his bandleader debut with a regional hit on the Ron label in 1959 with "All Night Long," a two-part instrumental.

But "Barefootin'," which was released by the NOLA label, unlocked an easy-delivery, smooth vocal style, making Parker one of the relatively few New Orleans R&B, soul and funk artists to break beyond regional acclaim. Parker recorded 11 45s and one LP for NOLA between 1966 and 1968, though only "Tip Toe" made any additional chart noise, peaking at No. 48 R&B and No. 83 Pop.

In 1969, Parker moved to Silver Fox Records and later to SSS International. In the '70s, he signed with Sansu, a label operated by Allen Toussaint, the incredible musician and producer. Toussaint reunited Parker with Wardell Quezergue, who had produced Parker's NOLA output, and some fine if under-appreciated tunes resulted.
Jean Knight

Jean Knight's 1971 no-nonsense ripping of macho male arrogance took her directly form the kitchen of Loyola University to a five-week stay at No. 1 on the charts. "Mr. Big Stuff" went double platinum, and Knight will never be forgotten.

Born in New Orleans in 1943, Knight began performing just out of high school. She quickly caught the attention of local musicians who were willing to accompany her. In the mid-1960s, Knight recorded a demo and submitted it to producer Huey P. Meaux, who then signed her to his Jet Stream and Tribe labels. The singer adopted the professional last name "Knight" rather than go by her harder-to-pronounce birth name of "Caliste."

It seemed a promising career was underway, and indeed Knight did find success in New Orleans but not beyond the city. She took a day job as a baker at Loyola University.

Then, in 1970, Knight went to Malaco Studios in Jackson, Mississippi at the insistence of Ralph Williams, who'd written some songs he wanted her to record with producer Wardell Quezerque. The key track from the sessions, "Mr. Big Stuff," was shopped to labels far and wide. Nobody was interested. But when King Floyd's "Groove Me" – another song recorded at Malaco – became a No. 1 hit and went Gold, Stax reconsidered and released "Mr. Big Stuff" in 1971. The song became an instantaneous smash hit, racing up the charts to No. 1 R&B and No. 2 Pop and garnering a Grammy nomination for Best R&B Vocal Performance.

Knight's follow-up song, "You Think You're Hot Stuff," also charted in 1971 (No. 19, Black Singles; No. 57 Pop) and her "Carry On" hit No. 44 Black Singles in '72.

In 1981, Knight signed with the Soulin' label and recorded "You Got The Papers (But I Got the Man)," an answer to Betty Wright's "I've Got the Papers On The Man." Then in 1985, she hit No. 50 on the Pop chart with her cover of Rockin' Sidney's "My Toot Toot" for the Mirage label. She recorded for Ichiban in 1997 and for Formaldehyde in '99. 

Clarence "Frogman" Henry
Clarence Henry was just messing around when he first sang in falsetto, "like a girl," and in a deep, croaky tone, "like a frog." It was in the early morning hours of a New Orleans club gig in 1956, and the remaining crowd went crazy. He didn't know it quite yet, but Henry had just sung the first version of a big-time hit.

Soon after when Paul Gayten, the New Orleans A&R man for Chess Records, heard Henry's "I Ain't Got No Home" he rushed Henry into Cosimo Matassa's studio. The song was released on the Chess subsidiary Argo Records and jumped to No. 3 on the R&B charts and No. 20 on the Pop charts. New Orleans DJ Poppa Stoppa played the tune repeatedly and introduced the artist each time as "Frogman." A hit, a nickname and a career were born.

Henry was born in New Orleans in March 1937. As a teenager, he'd sneak into clubs to hear his heroes, Professor Longhair and Fats Domino. He even dressed like Longhair at talent shows, wearing a wig with long braids on both sides. He joined Bobby Mitchell's group The Toppers in 1952, playing piano and trombone, and recorded with them for Imperial. He stayed with The Toppers until 1955 when he began finding jobs as a lead artist, featuring his singing. When Henry recorded his "I Ain't Got No Home," Rock 'n' Roll was in its infancy, and the song fit perfectly with the day's trend. Henry became a star at age 19.

Henry recorded prolifically for Argo and had another hit in 1961 with Bobby Charles' "(I Don't Know Why) But I Do," which reached No. 4 R&B. Later that year, he hit No. 12 R&B with "You Always Hurt The One You Love." Several more Henry records charted for Argo and in 1964, he opened 18 concerts for the Beatles in the U.S. and Canada. He left Argo later in '64 for Parrot Records and two years later left Parrot for Dial Records. In 1969, Henry recorded a collection of New Orleans standards for the Roulette label.

Henry worked constantly on Bourbon Street all they way until 1981 when he began to tour internationally. He cut his The Legendary Frogman Henry LP for Silvertone in England in 1982.
---
ZYDECO BOOGALOO


A set of the best traditional Zydeco from the genre's living masters, including Major Handy and a backing band that includes Buckwheat Zydeco and Lil' Buck Sinegal


Major Handy
"A thoughtful, articulate man off-stage, Handy is a whirlwind on it, shifting gears with breathtaking speed, he can reel off uncanny swatches of rock, blues, country and soul tangled up in delicious counterpoints of pure zydeco." - New Orleans Times Picayune

Born in 1949 in the small southeast Louisiana town of St. Martinsville - smack in the heart of Creole country - Joseph Major Handy's childhood desire to join in the musical activity that surrounded him was so intense that in his early teens he constructed a fairly intricate guitar out of a cigar box and some discarded screen wire. There was music everywhere - in the neighbor's yards, in the town square, at the local clubs - so there was certainly no shortage of influences for an aspiring musician. Handy, a sort of sponge, was soon adept at guitar, bass, piano, accordion and as a vocalist. Music was his fate, probably before he even realized it.

Handy's early gigs came mostly on guitar, including a job with Buckwheat Zydeco's original lineup and then with Rockin' Sidney. He's gone on to become one of today's finest zydeco and blues accordion players, steeped in the traditional styles of masters Clifton Chenier and Fernest Arceneaux.

Handy, who is nicknamed the Zydeco Bad Boy, has recorded two albums for GNP as well as a couple of songs on the Maison de Soul Records release, 100 Proof Zydeco.

Buckwheat Zydeco
Long before Stanley Dural Jr. became Buckwheat Zydeco and a master of the accordion, he was known as one of the baddest organ players in south Louisiana. Tonight, he's going back to his roots, to his first and most enduring love, the Hammond organ. Along with his first boss, guitarist Lil' Buck Sinegal, Dural will anchor the backing band for five headliners.

Dural was born in Lafayette, Louisiana in November 1947. He lived with his parents and 13 siblings in a two-bedroom house with music as the chief entertainment. When Dural was about 13 years old, he saw a performance by Paul "Lil' Buck" Sinegal. Dural introduced himself, mentioned that he owned his own organ and was soon recruited by Sinegal to join his Lil' Buck and the Top Cats outfit. The band grew to include a horn section and backup singers – the works – and toured regionally, playing funk and R&B. Dural stayed with Sinegal until 1971, when he formed his own band, Buckwheat and the Hitchhikers, still playing organ and yet to find his singing voice.

In the late '70s, Sinegal asked Dural to join him in Clifton Chenier's Red Hot Louisiana Band. Initially, Dural resisted any feelings of excitement about playing zydeco, a leftover youthful rejection of his father's "old time" music. But Chenier, as he did with seemingly everybody, demonstrated to Dural the raw energy and passion that zydeco could deliver. Dural began to study the music seriously and viewed Chenier as his idol and mentor.      

In 1979, Dural decided that he, like Chenier, would lead a zydeco band and play the accordion. He left Chenier and woodshedded for nearly a year to learn accordion. When he emerged, people didn't know what to make of the instrument switch. Further complicating his image was Dural's attempt at singing, something he'd long resisted because of a stuttering problem. But momentum built fast and by 1981, Dural was booking his first European tours. Buckwheat Zydeco was born. The group signed a five-album deal with Island Records and has become today's most popular and commercially successful zydeco band, a four-time Grammy nominee.

But tonight it's the original Buckwheat the organ player, taking his cues from Lil' Buck – just like the old days.

Lil' Buck Sinegal
At age 63, Lil' Buck Sinegal's career has spanned more than four decades with over 300 recordings, including a Grammy-winning effort with Paul Simon's 1987 album Graceland. He's also performed and recorded with Clifton Chenier, Rockin' Dopsie, Buckwheat Zydeco, Fernest Arceneaux, Barbara Lynn and many others. Sinegal is in fact one of the most active guitarists alive today – a true road warrior. He has recorded several albums as a bandleader and in 1999 was inducted into the Louisiana Blues Hall of Fame. He is making his fifth Blues Masters appearance, more than any other artist.
---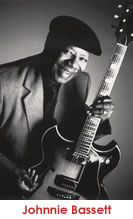 Johnnie Bassett

Johnnie Bassett, born in Marianna, Florida in 1935, can recall as a boy watching Arthur "Big Boy" Crudup and Tampa Red play at parties in his grandmother's backyard. They, along with T-Bone Walker, B.B. King and Albert King, formed the collective inspiration for Bassett's style of clean, expressive guitar licks.

Bassett's family relocated in 1945 to Detroit where he became a member of the teenage R&B group Joe Weaver & The Blue Notes in the early 1950s. The band won so many local talent contest that they could no longer compete as amateurs. Soon, they were being hired to back visiting artists like Big Joe Turner and Ruth Brown. After a two-year stint in the Army, Bassett returned to Detroit in 1960 and worked as a session musician for Fortune Records. He also worked gigs with John Lee Hooker, Lowell Fulson, Dinah Washington, Alberta Adams and others.

In the early 1960s, after traveling to Chicago, Bassett appeared on the very first recording of Smokey Robinson and the Miracles for Chess Records. Shortly thereafter, he moved to Seattle to perform with Johnnie "Guitar" Watson and Tina Turner. He also provided advice and encouragement to a young guitarist then going by the name Jimmy James but soon to be known as Jimi Hendrix.

Bassett returned to Detroit in the late '60s and raised a family, playing on weekends behind Chicago Pete, Clarence Price, Little Sonny Willis and Ben Baber. He formed Johnnie Bassett & The Blues Insurgents in 1992 and has recorded for the Black Magic, Fedora and Cannonball labels. He continues to tour Europe and North America. 

---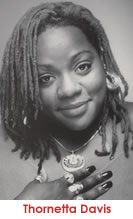 Thornetta Davis
It's a shame that Motown Records is no longer in Detroit making stars out of local talent because it's easy to envision Thornetta Davis as another Diana Ross. Davis, with a commanding yet melodic and smooth voice, is comfortable with all makes of traditional blues, R&B and ballads and has positioned herself as one of Detroit's brightest stars.

Davis was born in Detroit in 1963 to music-loving parents who boasted a large record collection. As a child, she was particularly taken by the Motown radio hits and began singing regularly around her family's flat. At 15, she sang publicly for the first time at a local talent show. By 19, she'd joined a Top 40 R&B group, gigging for low pay around Detroit.

Finally, in 1987 Davis gained some more meaningful attention – and pay – when she joined the Detroit soul band Lamont Zodiac and the Love Signs as a backup singer. Soon, the lead singer had left the group and the band changed names to The Chisel Brothers featuring Thornetta Davis. Davis and the group played some prominent gigs that included opening slots for artists like Ray Charles, Gladys Knight, Smokey Robinson, Bonnie Raitt and Etta James.

In 1991, Davis contributed backup vocals to Bob Seger's The Fire Inside record. Also that year, she began singing backup with the alternative rock band Big Chief. She recorded two albums with the grunge rockers on the Seattle-based Sub Pop label. When the group disbanded in 1996, Sub Pop signed Davis as a lead artist and released her debut, Sunday Morning Music.  The record received very favorable reviews including a rave in the national Entertainment Weekly magazine. The song "Cry" was featured on the HBO hit drama The Sopranos.

In 1999, Davis furthered her name with an astounding performance at the Lillith Fair, hosted by Sarah McLachlan at Michigan's Pine Knob Theatre. That same evening, she accepted two Detroit Music Awards for Best R&B/Blues Vocalist and Best R&B Group. Since, her haul of Detroit Music Awards has grown to 20. In 2000, Davis opened the VH1 Vogue fashion awards at Madison Square Garden with fellow Detroit star Kid Rock. And in 2001, Davis was inducted into the Detroit Music Hall of Fame. Davis recorded Live at the Music Menu in 2003, and the release has increased her national exposure to where she's now booked more than 200 dates a year.