6th Annual Blues Masters at the Crossroads
Friday, October 17th and Saturday, October 18th, 2003
Here is what some of the lucky people who attended had to say: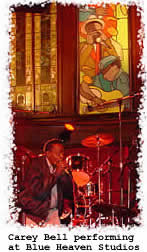 "...This weekend was a world-class experience, enhanced greatly by the friendliness of everybody involved... See you next year." — Jeff (Amarillo, TX)
"...It was such a pleasure working with you on this, beyond the music. Chad, you really impressed everyone with such a spectacular event. You made Kaz wonder why more people don't promote events like this, which works so well for the musicians, the audience, and for you too. I hope you enjoyed the musicians that I recommended. I know they really enjoyed the gig..." — Steady Rollin' Bob Margolin (performer)
"...It was well worth our drive from Duluth, MN to Salina to experience the Blues Masters at the Crossroads concerts. I enjoyed all the acts, but the Campbell Brothers (and Sisters) were the highlight for me. I felt that I may have left "Blue Heaven" and entered "True Heaven" while they were performing!
It was also a real treat to be able to visit Acoustic Sounds and be surrounded by shelf after shelf of fabulous music. I picked up several LPs I've wanted and am looking forward to listenening to them.
Thanks for all the hard work by you and your staff to produce a great music event." — Jack Lind (Duluth, MN)
"I've been to a fair amount of concerts in my life, but I have never experienced anything like this. It was truly magical." — Mike Oltz (New Jersey)
"The show last night was beyond description. Thanks." — George Jerkovich (Salina, KS)
"...This was the most eclectic and diverse group of talent so far; possibly another one of your 'even better than last year' events, as impossible as that seems. So I missed seeing the Yankees lose the first game of the World Series; small price to pay in exchange for the warm, luscious, vibrant sound of the Blue Heaven Church acoustics...What was most impressive was that, apart from the headliners, the younger 'team' led by Steady Rollin' Bob Margolin was a band of stars in their own right, each able to command the spotlight and create a show of their own...this has been my own 'mini-review' which doesn't begin to communicate the extraordinary atmosphere, sound and awe-inspiring talent on display...you, Chad, are on 'A Mission From God' to present and preserve this great music in its finest form, and we mortals owe you undeniable thanks." - Jeff Allen, Oceanside, New York
Blues Masters Merchandise
For those of you who weren't lucky enough to attend the Sixth Annual Blues Masters at the Crossroads concerts, we've saved some cool stuff.