Friday, October 14th
Saturday, October 15th, 2005

Blue Heaven Studios
201 S. Eighth Street
Salina, Kansas 67401
785-825-8609
---
Eddie Kirkland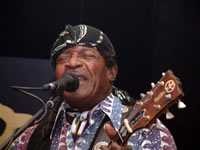 Guitarist Eddie Kirkland, 77, was born in Jamaica but raised near Dothan, Alabama from the time he was 2 until the age of 12 when he joined the traveling Sugar Girls Medicine Show. He eventually settled in Detroit in 1943 at the age of 15. There, five years later, he hooked up with John Lee Hooker, touring with the late master for the better part of the next decade. He also recorded with Hooker and under his own name for RPM in 1952, King in 1953 and Fortune in 1959.
In the 1960s, Kirkland moved to Georgia where he led Otis Redding's band and worked package shows with Ruth Brown, Little Richard, Ben E. King and Little Johnnie Taylor. In 1962, he recorded It's The Blues Man! for Prestige. The record, which featured the backing of sax player King Curtis' band, quickly went out of print and became a collector's item, prompting Fantasy to reissue it in their famed Original Blues Classics series. Volt Records issued Kirkland's dance number "The Hawg" in 1963 under the name Eddie Kirk.
In the 1970s, Kirkland recorded two albums for the Trix label and in the '80s waxed one each for JSP and Pulsar and several for Deluge. He recorded for Telarc in 1997 and again for JSP in 1999. His most recent release came earlier this year with Booty Blues on the upstart Hedda Records.
Much of Kirkland's material focuses on a dance beat, earning him the nickname "Energy Man." Kirkland's guitar style is primal and raw. He doesn't so much play the instrument as attack it.
---
Earl Gilliam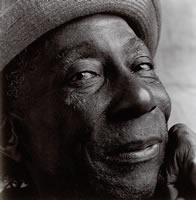 Playing both the piano and organ came naturally to Earl Gilliam, and by the time he was 10, his skills were featured in the services of the Baptist church in his native Tomball, Texas. At age 17, he started gigging with a blues band called Rag Mop in Conroe and by the time he reached 19, he was an in-demand sideman for Albert Collins, Gatemouth Brown and Ivory Lee Semien down in Houston. Ever since, he's been a fixture on the Houston-area scene.
He made his recording debut in 1959, cutting two songs for Sarg Records. Later, he cut two more tunes for the Ivory label. His most enduring association came with Joe "Guitar" Hughes, who he toured with throughout the '80s, joining in on three CDs.
Gilliam prefers a jam-like setting for his music. He likes to keep the arrangements loose, with feeling dictating the notes for all involved. His organ work, spiced with both blues and jazz, has been compared to the late Jimmy Smith, perhaps the greatest Hammond player of all time.
His first full-length release didn't come until earlier this year with Texas Doghouse Blues on the Dialtone label.
---
Lil' Joe Washington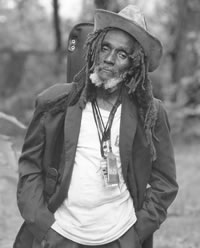 "This Texas guitarist's a bad-ass and maybe the dirty blues discovery of the year." – Ted Drozdowski, The Portland Phoenix
Not too long ago, it was a lot harder to reach Lil' Joe Washington for a gig. He was on-and-off homeless for the better part of two decades. But now, with a stable roof over his head, a recent CD to his name and bookings coming regularly, this 66-year-old Houston guitarist has become the epitome of raw, urban-styled blues. There's no doubting the inspiration for his blues. It's all real.
It's not as if Washington is a newcomer to the blues. In fact, his name comes from his imitations as a youth of Houston great Joe "Guitar" Hughes. Washington's real first name is Marion, but he's long been called Lil' Joe. He started off playing piano as a 5-year-old child. By 9, he was playing trumpet, and by 15 in 1954, he was playing drums in a band led by Albert Collins. Finally, he found the guitar, and for a long while it kept him in work. He toured with Rosco Gordon and then Cecil Harvey. Around age 20, he worked the rough border circuit around El Paso, Texas and Juarez, Mexico. Around 1961, he went to California with The Champs to record on the Donna label. In 1963, he returned to Los Angeles, where he recorded for the Federal label, ultimately releasing tracks such as "Someone Loves Me," "I Feel All Right" and "Bossa Nova and Grits."
Washington's fortunes took a turn for the worse in the '80s and '90s, and one of Houston's best talents made his home on the streets, his guitar often pawned. But he's now enjoying a career renaissance and in 2003 released Houston Guitar Blues on Dialtone. He had lost almost everything, but never his music. It's now back for the world to enjoy.
---
Dennis Binder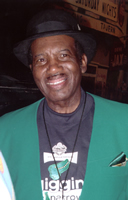 You could say that Dennis Binder, 76, was right there in the maternity ward when Rock 'N Roll was being born. He was, in fact, one of the genre's earliest purveyors. Binder recorded for Chess in 1949, Sun in 1951 and Modern in 1954. For Modern, Dennis Binder and the Rhythm and Blues Versatile All Stars were the house band for awhile in the Clarksdale recording studio. They came to Clarksdale from Chicago short a guitarist and picked up Modern talent scout Ike Turner for that job. Binder and Turner collaborated on memorable sides under each of their names as well as in accompaniment of others. Binder, who sings and plays piano, moved to Lawton, Oklahoma later in the 1950s and has recorded infrequently since then. Some of his material has been reissued by Ace Records abroad and by the Delmark/Pearl label stateside.





---
Phil Guy
He may be "the other Guy" to some, but Phil Guy is plenty deserving of his own accolades. Yes, he's the younger brother of Buddy Guy, and for his entire professional life, that's been the first thing most blues fans and critics remember. But those who've been paying further attention these past 40-plus years know that Phil Guy can bring it plenty heavy himself.
Phil Guy was born in Lettsworth, Louisiana – about 60 miles northwest of Baton Rouge - in April of 1940. He took after Buddy and began playing guitar at age 13. Soon, he was good enough to join Buddy for a few informal gigs. Just about the time Buddy moved to Chicago in 1957, 17-year-old Phil took Lazy Lester's spot in Raful Neal's band in Baton Rouge. He held that job for most of the next 12 years.
In 1969, Buddy called for Phil to join his band in Chicago in preparation for an upcoming U.S. State Department tour of Africa. After the tour, Phil played on Buddy's Hold That Plane record for Vanguard and continued as the band's rhythm guitarist into the mid-1970s. From there, he still occasionally backed Buddy but also worked with Junior Wells, Koko Taylor and Son Seals. He also accompanied Wells on his On Tap Delmark release and Buddy on Stone Crazy for Isabel (reissued by Alligator) and Live at the Checkerboard Lounge, DJ Play My Blues and Breaking Out, all for JSP.
Slowly, Phil began accumulating his own gigs, and by the 1980s, he was a regular bandleader. Since, he's toured the world and states several times over and has exhaustively worked the Chicago club scene. He's also recorded seven records of his own, most for JSP of England, though somehow he's never had a release on a domestic label. Phil's style incorporates the Chicago blues of his brother, though it also includes shades of funk and soul.
---
Sharrie Williams & The Wiseguys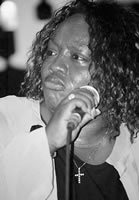 After several extensive and very well-received European tours over the past few years, Sharrie Williams is now regarded as a new star of blues, soul and gospel music. She's easily among the most powerful female vocalists on today's scene, and her show is uniquely autobiographical. Williams has gone through tremendous personal struggle, including a crack cocaine addiction, and she's channeled the story of her recovery and career revival into a captivating and inspirational performance.
Williams was raised in Saginaw, Michigan, the same city that produced Stevie Wonder and sax player Sonny Stitt. The Greater Williams Temple Church of God in Christ's choir is very well known, and in the 1970s, one Sharrie Lynn Williams was its lead vocalist.
"I must have been about 11, and I was a typical girl, singing Dianna Ross songs in the bathroom mirror, holding a little brush or a bottle of lotion as my microphone, and I knew I wanted to be a singer," Williams recalls.
She lists Tina Turner as her all-time favorite inspiration. Others include Etta James, Patti LaBelle, Aretha Franklin, Billie Holiday and Natalie Cole.
After turning the corner on her personal struggles in the mid-1990s, Williams began to focus on the blues. She caught the attention of British record producer Mike Vernon, who recorded a studio album with her. In the late 1990s, Williams began working with her old high school friend, guitarist James Owens, and together they founded the Wiseguys, now a tight outfit of exceptional skill. Ever since, Williams' career has risen meteorically. Last year, Crosscut Records released her Hard Drivin' Woman.
---
Saturday, October 15
---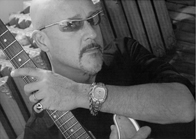 John Mooney
The first and most enduring influence on the development of upstate New York native John Mooney's music resulted from his meeting the legendary Son House in Rochester, New York. Impressed by the 16-year-old musician's talent, House eventually took Mooney under his wing.
"It took Son a little while to warm up to me," Mooney recalls. "I'd been playing Delta stuff for a few years and we played together at a couple of house parties. I'd tune his guitar. He started getting comfortable around me and invited me over to hang out. I wasn't aware of what the opportunity meant, but I knew there was nobody better in Delta blues."
Mooney, who turned 50 in April, spent much of the early '70s traveling the country with his National Steel guitar, honing the skills he'd learned from House and developing his own, distinctive style. The gigs slowly but surely got bigger and the word began to spread that John Mooney was deserving of bookings, recordings and acclaim.
Mooney's style incorporates both savage energy and sensitivity, all in the bag of traditional blues. He's a dynamic guitarist with a special talent for slide playing, and he's a commanding vocalist. His discography, dating back to 1979's Comin' Your Way for Blind Pig, includes 10 releases on seven labels. His most recent is 2002's All I Want, also on Blind Pig.
---
Classie Ballou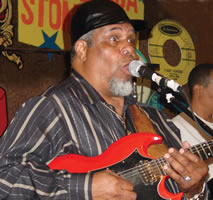 Guitarist/singer/songwriter Classie Ballou, 68, has been ripping it up worldwide for more than 45 years. Through career upswings, downturns, hit records and the disco-era draught, Ballou has rolled on. Most years, he performs nearly 300 shows. Almost from the beginning, he has been on top or at least in the company of those who were. It was a 17-year-old Ballou and his band that Eddie Schuler, owner of Goldband Records, chose to back Boozoo Chavis in 1954 on Chavis' first record, "Paper In My Shoe." The song became the first Zydeco hit, putting the genre on the national map.
From there, Ballou recorded a hit in "Hey! Pardner" for Excello in 1957 followed soon after by his biggest hit, "Confusion" for Nasco. That song rose to Number Two on the Billboard R&B chart in 1957. After the Nasco session, Ballou hit the road with star Rosco Gordon and was on one of the biggest hits of all time, Gordon's "Just A Little Bit," recorded for Vee-Jay at Chicago's Universal Studios in 1959. For a time, Ballou's own band included Huey Thiery, the singer-songwriter who later formed Cookie and the Cupcakes and recorded the swamp-pop classic "Mathilda."
In the 1960s, Ballou moved from his native Louisiana to his current home of Waco, Texas, and from there pretty well ruled the Southwest with his unique mix of blues, R&B and Zydeco. He passed on an offer to tour with Ike and Tina Turner when that duo was at its zenith in favor of spending more time with his family.
Now, much of his family is in his band. Son Cedric plays bass. Grandson Cedryl handles the drums. Daughter CaCean plays guitar and keyboards. But the family member that draws the most attention is Cam-ron. He's Classie's 6-year-old grandson (CaCean's son), who takes over for Cedryl on drums for some of the set. Classie began to teach Cam-ron rhythms at age 1 by tapping beats on his crib and having the baby repeat them. By age 3, Cam-ron was playing a miniature drum kit. The next year, he moved to a full-sized kit and has now been a part of the family band for more than a year. The band can play most anything and boasts a regular song list of more than 50 numbers.
---
Jimmy Dawkins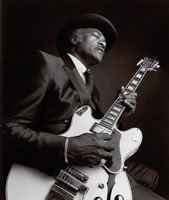 Since the late 1950s, Jimmy Dawkins has been one of the most in-demand blues guitarists in Chicago - the city that boasts the most blues guitarists. He began his professional career accompanying Jimmy Rogers, Smokey Smothers, Left Hand Frank, Koko Taylor, Sleepy John Estes, Carey Bell and many others. In the 1960s, he gained a reputation as a top session man and did recordings with Wild Child Butler, Little Mack Simmons and Luther Allison. He made his first album as a bandleader in 1969 with Fast Fingers on the Delmark label. The record's title inspired a nickname, and for quite a few years Dawkins was known as Jimmy "Fast Fingers" Dawkins, though the sobriquet is somewhat misleading. Dawkins style is special more for its taste than its fire. Make no mistake, Dawkins' guitar burns plenty hot, but he'd rather leave the outrageous showmanship and hyper fretwork to someone else. He plays blues – the real kind.
Dawkins, born in Tchula, Mississippi in 1936, came to Chicago by Greyhound in 1955. Harp player Billy Boy Arnold showed the young guitarist around, and Dawkins rather quickly made a name on the crowded West Side scene, which also included then up-and-comers Magic Sam and Luther Allison.
Dawkins' recorded output to date includes 19 albums under his own name and literally hundreds more as a backing musician. Dawkins will be joined by Bob Stroger on bass, Billy Flynn on guitar and Jim Schutte on drums.
---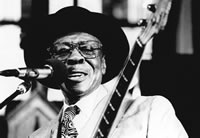 Bob Stroger

Bob Stroger, a bass ace from Chicago, is making his fourth Blues Masters appearance, and he's recorded at Blue Heaven Studios with Jimmie Lee Robinson and Wild Child Butler. Stroger has worked with pretty much everyone on the Chicago blues scene over the past 40 years, remaining one of the most respected bass players. In 2002, Crosscut Records released the first album to feature Stroger's vocals with In The House: Live At The Lucerne Blues Festival.


---
Nora Jean Bruso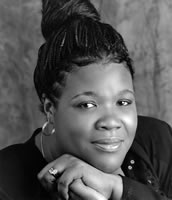 Nora Jean Bruso's first paid performance came when she was just 6 years old. One of her brothers bragged to two of his friends that his sister could really sing. To prove his point, he brought them into her room for an impromptu gig. She lit into some Howlin' Wolf she had heard her father sing, and each of the boys gave her a nickel. But it wasn't until she won a high school talent show that Bruso (formerly Wallace) aspired to become a professional singer.
Bruso was born and raised in Greenwood, Mississippi but moved to Chicago in adolescence. There, in 1976, her Aunt Rose heard her sing and then brought her around to several Chicago clubs. The informal auditions landed her a spot with Scottie and the Oasis, and she performed with that band for several years before Scottie's death.
Bruso's big break came in 1985 when Jimmy Dawkins saw her perform and invited her to join his band. For the next seven years, Bruso toured and recorded with Dawkins. She appeared on his Feel The Blues (JSP, 1985) and Can't Shake These Blues (Earwig, 1991).
By 1991, the demands of the road became too great for Bruso, a mother of two. She took a break from performing for the next five years, and then finally formed her own band, Nora Jean and the Fellas. Since, her career has been going full-tilt, and she's now enjoying the success of a 2004 release, Going Back To Mississippi (Severn).
---
Barbara Lynn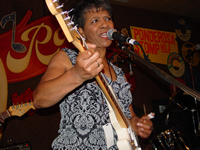 In a just world, Barbara Lynn would have been a major star. After all, what other African-American woman in the early 1960s, barely out of her teens, not only sang with rich and affecting soul, but also wrote her own hit songs, and was a sharp, facile guitarist, playing left-handed no less? Perhaps Lynn's formidable talents may have been just a bit ahead of that time. But the good news is that Lynn has reemerged in recent years to claim her rightful place as the Empress of Gulf Coast Soul.
Barbara Lynn Ozen, 63, was born in Beaumont, Texas within the musically-fertile region east of Houston known as the Golden Triangle. Inspired by blues guitarists like Guitar Slim and Jimmy Reed as well as pop acts Elvis Presley and Brenda Lee, by her teen years Lynn was winning talent shows and soon graduated to the clubs. There, she caught the attention of famed producer Huey Meaux, who took her to Cosimo's Studio in New Orleans to make history.
In 1962, Lynn scored a Number One R&B hit and Top 10 pop hit with her first single, "You'll Lose A Good Thing." More chart records followed, and Lynn was soon touring with Gladys Knight, Stevie Wonder, Smokey Robinson, Dionne Warwick, Jackie Wilson, Sam Cooke and B.B. King. She appeared twice on American Bandstand and The Rolling Stones recorded her song "Oh Baby (We've Got A Good Thing Goin')."
Lynn's career paused when she married at age 28 and had three children. In the past handful of years, she's returned to the scene and has demonstrated repeatedly that she hasn't lost a thing. She's never smoked or drank, and as a result her voice is as sweet and rich as ever. And it's apparent she kept the guitar nearby as well.
---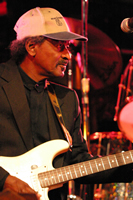 Paul "Lil' Buck" Sinegal
At age 61, Lil' Buck Sinegal's career has spanned more than four decades with over 300 recordings, including a Grammy-winning effort with Paul Simon's 1987 album Graceland. He's also performed and recorded with Clifton Chenier, Rockin' Dopsie, Buckwheat Zydeco, Fernest Arceneaux and Barbara Lynn, who he'll back at this year's Blues Masters Saturday night show. Sinegal has recorded several albums as a bandleader and in 1999 was inducted into the Louisiana Blues Hall of Fame. He is making his third Blues Masters appearance.





---
Roscoe Chenier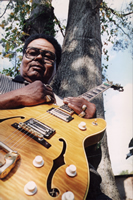 Born in Prairie Basse, Louisiana in November 1941, Roscoe Chenier began his musical career at age 15, singing with Rockin' CD and the Blues Runners. Two years later, he started his own band after adding guitar playing to his vocals. Since, he's been a fixture on the musically-rich southern Louisiana scene. He's also revered in Europe, as are many American bluesmen, though his national touring has been limited.
In 1961, Chenier recorded a 45-RPM single for the Reynaud label. "Born For Bad Luck" backed with "Annie Mae's Yo-Yo" was something of a regional hit and now fetches as much as $200 among European collectors. His self-titled full-length debut came in 1993 on the Avenue Jazz label. While it wound up being stocked in some record store's jazz bins, the album, which was recorded at Vidrine Studios in Opelousas, Louisiana, is actually a collection of R&B and soul-tinged blues with a heavy Fats Domino sound. In 2001, the Black and Tan label released Roscoe Style.
Roscoe is the second cousin of the late King of Zydeco, Clifton Chenier. Though Roscoe favors blues, he does include some Zydeco flavor in his music. As one reviewer put it, "it sounded like B.B. King and Clifton Chenier performing together."
---
Jude Taylor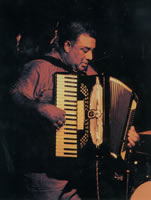 Jude Taylor is one of the last torch-bearers of the real, old-school Zydeco. The 56-year-old Creole singer and accordionist was born in Grand Coteau, Louisiana and grew up singing in his church choir before joining a few blues bands and then finally discovering his Zydeco sound.
Taylor plays the piano-key accordion, having been inspired primarily by Buckwheat Zydeco and Clifton Chenier. He spent a good portion of his musical apprenticeship shadowing those two Zydeco legends, working in any capacity he could, be it on the road crew, as a backing vocalist or as a personal valet. He made his recording debut in 1994 on the Mardi Gras label with The Best of Zydeco. Zydeco Bayou!, also on Mardi Gras, followed in 1997.
Taylor remains committed to keeping the traditional, blues-based Zydeco sound alive even though that has inevitably cost him some bookings from promoters looking for the new, rock-based Zydeco style.
Zydeco is a dance-based fusion of French and African culture, born in southern Louisiana. It's party music, to put it simply. Like with any great Zydeco, Taylor's performances are full of tremendous energy, making him the perfect way to end the eighth annual Blues Masters at the Crossroads.