Friday, October 13th
Saturday, October 14th, 2006

Blue Heaven Studios
201 S. Eighth Street
Salina, Kansas 67401
785-825-8609
---
Grayson Capps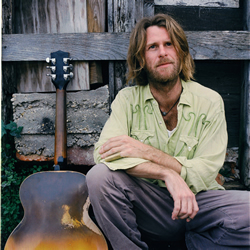 Grayson Capps descends from the celebrated American Southern literary tradition, and his songs deal with the South and the idiosyncrasies of its people, landscapes and tempos. Recently selected by Razor Magazine as one of five artists to watch in 2005, writer Bret Love declared: "Like a whiskey-soaked, back alley poet sired by Tom Waits and Robert Johnson, Capps' stripped-down sound is rooted in the dark side of the Delta."

Capps, 39, narrowly missed what looked like the big-time in the early '90s. His band, then called the House Levellers, gathered some fame, including a spot on the cover of USA Today and opening tour slots for Crowded House, before tensions drove the group into the ground.

After that, Capps discovered a stretch of houses on the railroad tracks off Tchoupitoulas St. in New Orleans, where he'd graduated Tulane University a few years prior. He lived there like a bit of a squatter for a few years, sharing electricity with other shotgun apartments and illegally tapping the city's water main and gas line. It was a time for wood shedding – writing songs and playing guitar.

Eventually, he and another musician from his makeshift beatnik community formed the group Stavin' Chain and ascended to the point where they jammed with Ron Wood of the Rolling Stones, opened for the Wallflowers, Koko Taylor and Jeff Buckley and were finally signed to Ruf Records and distributed by Polygram Records. But just as success seemed inevitable, Polygram merged with Universal and dropped their record. The band broke up.

Capps then stumbled into a movie role. He'd met an independent film producer who'd told him of her desire to make a film about New Orleans. Turns out, Capps' father had written an unpublished book that took place in New Orleans and told the tale of Bobby Long and Fred Stokes. The producer loved the book, turned it into a screenplay and asked Capps to join the cast, which also includes John Travolta, and contribute music to the soundtrack. A Love Song For Bobby Long was released in 2004.

Chick Willis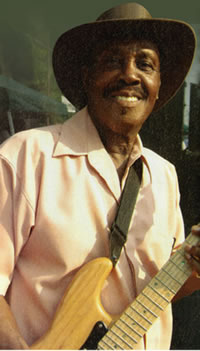 "The Stoop Down Man," as he's called, is a true triple threat: a superb guitarist, a soulful singer and one hell of an entertainer. Robert "Chick" Willis, 72, is of course best known for his 1972 raunchy, good-humored insult ode, "Stoop Down Baby Let Your Daddy See." The song was a major jukebox hit, though the lyrics were a little too risqué for radio airplay. All the same, the record sold over three million copies and put Willis on the map to stay.

But Willis had been thrilling audiences for more than a decade before that song, and he'd worked as a sideman since he was a teen growing up in Atlanta. His first professional gigs came at the Royal Peacock Club, where he backed such talent as Jimmy Reed, Ray Charles, Sam Cooke and Big Joe Turner. He went on the road with his cousin, famous blues ballad singer Chuck Willis, in 1954. In 1956, Willis made his first recordings under his own name for the Los Angeles-based Ebb Records. When Chuck died in 1958, Willis stopped in Chicago and backed Elmore James for a stretch.

In the early '60s, Willis cut a few obscure sides for small labels. But with "Stoop Down Baby," released on the La Val label, he hit on a number so requested and memorable that he solidified gigs all the way into the present day.

But he hasn't rested on the laurels of that song. Willis has gone on to record 11 more records since, and he's toured the world multiple times. In the 1980s, Willis lived in Kansas City, where he owned and operated Blues Alley, at 39th and Jackson on the Missouri side. He's since moved back to his hometown Atlanta.


Willie Cobbs
In 1960, Willie Cobbs cut a tune with a melody so catchy and memorable that it eventually sounded just like a cash register ring. "You Don't Love Me," covered to enormous success by the Allman Brothers Band and later Dawn Penn of Jamaica, immortalized Cobbs in the scope of blues songwriting.
Born in Monroe, Arkansas in 1932, Cobbs was turned off by the prospect of rice farming and migrated to Chicago in 1947. He learned the harmonica, and soon began an association with noted piano player Eddie Boyd. The two of them returned to Arkansas together and took up gigs around the town of Hughes. It's there that Cobbs wrote and began performing "You Don't Love Me." The local audiences went wild.
"Every time we played it, the people would come back around and say, 'Play that again! Play that again!'," Cobbs recalled. "They'd say, 'Y'all need to record that.'"
And so Cobbs set off for Memphis in 1960 to do just that. He went to the city's biggest record store, The Home of the Blues, and performed the song for the storeowner, who also had a record label.
"He said, 'It's a damn good song, but you can't sing.'," Cobbs said, laughing now at the memory. "He said, 'I can probably get Howlin' Wolf to sing it, but you can't sing it."
Cobbs walked out the door disappointed. But Billy Lee Riley and Stan Kessler, two local musicians and producers, happened to be in the store and had heard the performance. They followed Cobbs out of the store struck an agreement on the spot to record the song.
Just a couple days later, Cobbs and Boyd, along with a saxophonist, guitarist and bassist cut the song for Riley's Mojo label. It instantly became a smash, quickly rising to Number One in Memphis.
Kessler and Riley sold the master to Reuben Cherry, the same Home of the Blues storeowner who originally rejected Cobbs. Cherry leased it to Vee-Jay out of Chicago. But at the same time, Riley took the tune to a group in Louisiana called the Megatons and cut an instrumental version titled "Shimmy Shimmy Walk, Pt. 1." Riley credited himself as composer. "Shimmy Shimmy Walk, Pt. 1" started to climb the charts on the Checker label, but Cobbs sued Riley. Vee-Jay, scared off by the lawsuit, ceased pushing "You Don't Love Me."

Fortunately for Cobbs, you can't keep a good tune down. The Allman Brothers covered the song on their 1971 Live at Fillmore East, and Dawn Penn adapted the tune to a reggae beat on her No No No album in 1994. Both versions became massive hits, and Cobbs has pocketed hundreds of thousands of dollars in royalties.
In the '60s, '70s and '80s, Cobbs recorded for a slew of obscure labels, many of them his own. While he hasn't scored any more hits, he is recognized as a phenomenal performer and remains in-demand worldwide.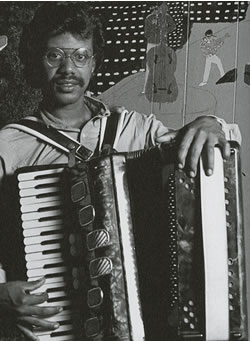 Leon Sam
Clifton Chenier popularized the good-time, accordion-driven music called Zydeco in the 1950s. And ever since, Zydeco bands have spread from southern Louisiana like Bermuda grass. But as the music's aged and evolved, it's changed generally from a blues-based genre into one set to hyper-tempo rock rhythms, played loud. There are very few remaining of the original-styled, "real" Zydeco artists, playing the music the way Chenier did. Leon Sam is one of those few.

Sam, who is from Houston, learned Zydeco from his father, Herbert Sam, who led a band for many years. Herbert taught each of his children an instrument, and as they became proficient, each one joined the band. Finally, when all of Herbert's sons - Leon, Carl, Glen, Calvin and Rodney - were experienced musicians, Herbert retired from music and let his boys take over. They became The Sam Brothers Five, and Leon assumed the accordion, vocal and bandleader roles. The group went on to become one of the most electrifying bands on the Zydeco circuit.

Arhoolie Records producer Chris Strachwitz discovered Leon and his brothers at the New Orleans Jazz and Heritage Festival in 1979. Strachwitz organized a west coast tour for the group, recorded a live performance and released the group's debut LP, Sam Brothers 5. Cruisin' On came in 1981, followed by Zydeco Brotherhood in 1989.
Paul "Lil' Buck" Sinegal (performing with Willie Cobbs and Leon Sam)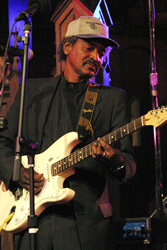 At age 62, Lil' Buck Sinegal's career has spanned more than four decades with over 300 recordings, including Grammy-winning efforts with Paul Simon's 1987 album Graceland. He's also performed and recorded with Clifton Chenier, Rockin' Dopsie, Buckwheat Zydeco, Fernest Arceneaux and Barbara Lynn. Sinegal has recorded several albums as a bandleader and in 1999 was inducted into the Louisiana Blues Hall of Fame. He is making his fourth Blues Masters appearance.
Lee Allen Zeno (performing with Willie Cobbs and Leon Sam)

So often, sidemen don't get proper credit for their place in helping to create historic music. But you can tell the good ones by recognizing on how many records by how many different artists their names turn up. Lee Allen Zeno is as in-demand a bass player as any. His credits include recordings with Buckwheat Zydeco, Charlie Rich, Dalton Reed, Guitar Shorty, Solomon Burke, Carol Fran, Phillip Walker, Marcia Ball, Irma Thomas, The Holmes Brothers and Carl Weathersby.


Syl Johnson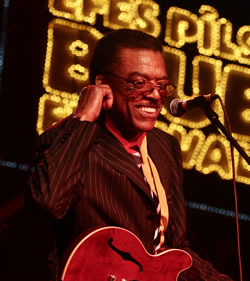 One of the greats from the fabled Hi Records stable, Syl Johnson is a classic soul singer and an accomplished guitarist. His singing style might be described as a cross between Joe Tex and James Brown though Johnson's inspired the voices of many more artists than he's mimicked.
Johnson was born July 1, 1936 in Holly Springs, Mississippi as Sylvester Thompson. His brothers include blues guitarist Jimmy Johnson and bassist Mac Thompson. He moved to Chicago as a young man and soon found jobs accompanying Magic Sam, Billy Boy Arnold, Junior Wells, Elmore James, Willie Dixon, Shakey Jake and Howlin' Wolf. Johnson made his recording debut in 1959 backing Jimmy Reed for the Vee-Jay label, and he scored his own deal for Federal that same year, cutting a 45 using Freddie King as lead guitarist.
After the Federal singles failed to hit, Johnson began recording for Twilight Records (later Twinight) of Chicago. He scored his first hit with Twilight in 1967 with "Come On Sock It To Me" and hit again in '69 with "Is It Because I'm Black."
Dresses Too Short, one of Johnson's Twinight releases, was cut in Memphis with Willie Mitchell of Hi Records as producer. Mitchell fell in love with the uniquely expressive qualities of Johnson's singing and in 1971 brought him to Hi, one of the jewels of the Memphis soul and R&B labels. Hi had become a huge label thanks to the success of Al Green, and Johnson reached number seven on the R&B charts with his cover of Green's "Take Me To The River" in 1975. Johnson's star was born on the Hi label from 1972 to 1976.
After the Hi years, Johnson produced two LPs for his own Shama label, the latter of which (Ms. Fine Brown Fame) in 1982 was picked up for distribution by Boardwalk Records and produced his last hit, the title cut. Soon after, Johnson dropped out of the music business and opened Solomon's, a chain of fast-food fish restaurants in Chicago.
In the late 1980s and early '90s, various rappers, including Ice Cube, Ice-T, NWA, Public Enemy, Tone-Loc, MC Hammer and the Wu-Tang Clan, began sampling Johnson' classic 1960s and 70s recordings, and he began to receive substantial royalty checks. The attention prompted Johnson's return with 1993's Back In The Game for the Delmark label. He's recorded six more albums since.


Saturday, October 14
---
Jimmy McCracklin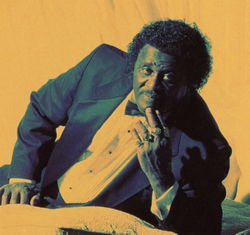 Jimmy McCracklin, at 85 years old, performs with the life of someone at least 10 years his junior. Maybe it's because that's what he is. All the documents have McCracklin born in August of 1921, but he vehemently denies his reported age, saying he's 75 years old. In any case, 85 or 75, McCracklin defies all expectations but his own with rousing performances of his big-time hits.

McCracklin began recording in 1945 (could he really have been just 14?) after he'd served a stint in the Navy during World War II (as a pre-teen?). He'd also worked for a short while as a successful boxer. But eventually he moved from his native St. Louis to the West Coast and recorded "Miss Mattie Left Me" for the Globe label in 1945.

McCracklin went from Globe to a series of small-time labels before finally landing in the major leagues with Modern in 1949, Swing Time the following year and then Peacock from 1952 to 1954. Later in '54, he was back with Modern and scored a hit with "Couldn't Be A Dream." But his first major hit came with "The Walk," a raw dance tune with a catchy groove. McCracklin recorded "The Walk" in 1956 for the Irma label, but the hit came in 1958 when it was issued on Checker (the sister label to Chess). The song rose to the Top 10 on both pop and R&B charts, and in a flash McCracklin became famous. He reportedly was the first blues artist to appear on Dick Clark's American Bandstand TV show.

More hits came in the way of "I Just Got To Know" in 1961 and "Shame, Shame, Shame" the following year, both songs for the Art-Tone Records. He moved labels yet again, this time to Imperial, and hit with "Every Night, Every Day" in 1965 and "Think" and "My Answer" in 1966. McCracklin also wrote "Tramp" in 1967 for his buddy Lowell Fulson, who took the tune to the top of the R&B charts. The songs climbed even higher when Otis Redding and Carla Thomas covered it just a few months later.

McCracklin represents one of the very last of the Jump Blues piano players from the West Coast tradition.

Rory Block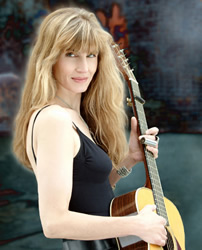 "Rory Block is one of the greatest living acoustic blues artists, and she can hold her own with the legends who inspired her." – Blues Revue

Heralded as "a living landmark" (Berkeley Express) and "a national treasure" (Guitar Extra), Block is a traditionalist and an innovator at the same time. The New York Times declared: "Her playing is perfect, her singing otherworldly as she wrestles with ghosts, shadows and legends."

Born in Princeton, New Jersey in November 1949, Aurora "Rory" Block grew up in Manhattan in a family with Bohemian leanings. Her father owned a Greenwich Village sandal shop, where musicians like Bob Dylan, Maria Muldaur and John Sebastian all made occasional appearances. She was playing guitar by age 10, and by her early teens she was sitting in on the Sunday jam sessions in Washington Square Park. During these years, her life was touched – and profoundly changed – by personal encounters with some of the earliest and most influential Delta blues masters of the 20th century. She learned her first lessons in blues and gospel music from the Reverend Gary Davis, Son House, Skip James and Mississippi John Hurt.

Block recorded an instructional record called How To Play Blues Guitar in the mid-60s (she was billed as Sunshine Kate on the original recording) but then took a decade off from music to start a family. In the 1970s, she made a few records that ran counter to her inherent blues instincts, and the result was frustration. Returning to the blues, she signed with the Boston-based Rounder label and released High Heeled Blues in 1981. Rolling Stone referred to the album as "some of the most singular and affecting country blues anyone – man or woman, black or white, old or young – has cut in recent years."

In the 1990s, Block brought home W.C. Handy Awards four years in a row – two for Traditional Blues Female Artist of the Year and two for Best Acoustic Blues Album of the Year. She joined the Telarc label in 2003 and has since released two acclaimed records, Last Fair Deal and From the Dust.

Diunna Greenleaf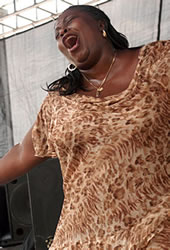 Diunna Greenleaf, of Houston, Texas, has a background steeped in both blues and gospel. She's been influenced by the likes of Koko Taylor, Aretha Franklin, Rosetta Thorpe, Sam Cooke and Charles Brown, and she includes intricate patches of jazz and soul in her performances.

Greenleaf came to the life of professional performing quite late, considering how much talent she had to offer. She worked as a school counselor and occasionally sang rather informally for children's and educational benefits. She and her band played a small show at a hospice in celebration of Houston blues legend Teddy "Cry Cry" Reynolds' birthday. Afterwards, Reynolds told Greenleaf of how he'd known her parents, both gospel musicians, and how she was not only very talented but also had a duty to continue the family legacy of performing. So insistent was Reynolds that he solicited the opinion of his old friend Katie Webster, the Swamp Boogie Queen. Webster confirmed Reynolds' assessment and encouraged Greenleaf to seriously pursue a life in music, even giving her newfound protégé typed rules for forming and leading a band.

In 2005, Greenleaf and her band Blue Mercy represented Houston in the International Blues Challenge, an annual contest in Memphis that features the world's best unsigned blues bands. Greenleaf and Blue Mercy finished first out of 84 bands from 32 states and eight countries. What's more, Blue Mercy's guitarist, John Richardson, earned the Albert King Award for Most Promising Guitarist. From there, the gigs came steadily, and the group's been booked solid ever since.

Greenleaf has performed with Blues Masters alumni Bob Margolin, Pinetop Perkins, Hubert Sumlin, Willie "Big Eyes" Smith, Carey Bell, Mookie Brill as well as with other greats like James Cotton, Keb' 'Mo, Anson Funderburgh, Sam Meyers, Bernard Allison, Odetta, Sherman Robertson and Kenny Neal.

Blues Revue named Greenleaf in their 100th anniversary feature 10 To Watch: The Future of the Blues in July of this year.

Phillip Walker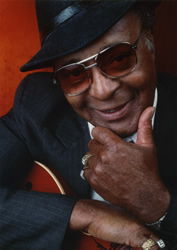 Phillip Walker has been on the road almost continuously for 53 years. He started out backing some of the all-time greats and eventually became one himself.
Born in Welsh, Louisiana in 1937 to sharecropping parents, Walker and his family moved to Port Arthur, Texas when he was 8. His formal education ended when he was just 12 after his father became ill and his hands were needed fulltime in the fields. Walker had several uncles who were guitarists, and they exposed him to the instrument at a very young age. He fashioned his first model using a cigar box and window screen wire.
When he was just 15, Walker began to wear a fake mustache to gain entry into the local taverns where he sat in with performing bluesmen. Later that year of 1952, he made his recording debut as a sideman for Rosco Gordon. The following year, he met and played with Clifton Chenier when the King of Zydeco passed through Port Arthur. Chenier invited Walker to join his band, and against his parents' wishes, the 16-year-old set out on the road.
By 1955, the still-teenaged Walker was already a veteran sideman who'd worked in Chenier's band for a couple of years and had also backed Little Richard and Etta James. He formed his own band, the Blue Eagles, and toured the country as accompaniment for Little Richard and Fats Domino.
Walker relocated to Los Angeles for good beginning in 1959, and he soon met singer Ina Beatrice Gilkey, known as Bea Bopp. The two worked together throughout the '60s and eventually married.
In 1973, Walker recorded his first solo album with The Bottom Of The Top for Hugh Hefner's short-lived Playboy label. The record sold well and scored very solid acclaim, putting Walker in even greater demand. He followed with Someday You'll Have These Blues in 1976 on the Joliet label, which again served notice that Walker had become a dominant force on the blues scene. He began to score major festival spots worldwide.
Walker's wife Bea Bopp died of lung cancer in 1991, though she'd never smoked. Distraught as he was, Walker continued to tour and record to pay the bills. He cites his late wife as his chief inspiration.
Walker's remained incredibly active and focused and has by this point played every major festival worldwide. Since 1985, he's recorded for Hightone, JSP, Black Top and Alligator.
T-Model Ford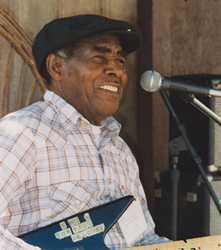 T-Model Ford was born James Lewis Carter Ford in Forrest, a small community in Scott County, Mississippi. Ford thinks he's 84 but isn't sure. He was plowing a field behind a mule on his family's farm by age 11, and in his early teens he secured a job at a local sawmill. He excelled and was later recruited by a foreman from a bigger lumber company in the Delta, near Greenville, and eventually got promoted to truck driver. He later worked in a log camp. Ford didn't take to music until he was in his 50s and his then-wife (number five) bought him an electric guitar and amplifier for his birthday. By the next week, she'd left him, and that's when he began to study seriously on his new instrument.

Ford released his debut record, Pee Wee Get My Gun, on the Fat Possum label in 1997 at the age of approximately 75. The record's style fit perfectly with the burgeoning Fat Possum sound - that being raw, bare, repetitive, hard-living-inspired country blues. Ford is a sure-fire poster child for that sub-genre. As Blues Revue commented in 2005, "From an abusive father to time on a 1940s chain gang, from five failed marriages to his newfound fame as a bluesman, T-Model has ducked and dodged when he could and fought when he couldn't." Ford followed his debut with three more records for Fat Possum, the most recent being Bad Man in 2002.
Ford is the only man still playing on Greenville's Nelson Street. Most of the audience has scattered due to violence from the crack trade, and with the exception of Ford, the street that once boasted Booba Barnes is dead. On a typical night, Ford will arrive at the club and unpack his instruments. When he feels there are enough people, he starts banging away in his own hill stomp. It's nothing unusual for him to play eight hours a night. He keep going until no one's left standing.