Kenny Wayne Shepherd at Blue Heaven Studios
June 18, 2004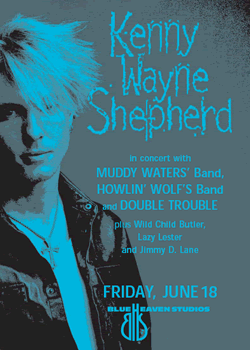 On June 18, 2004, renowned rock/blues guitarist Kenny Wayne Shepherd will reunite several members of both Muddy Waters' and Howlin' Wolf's bands for an historic concert as part of a documentary film and accompanying record (Audio/DVD) to raise funds for Music Maker Relief Foundation (MMRF). The Foundation offers assistance to the pioneers of the Southern music tradition, ranging from recording and distributing their music to providing food, shelter and medical care. The concert will be held at Blue Heaven Studios and tickets go on sale June 4, 2004.
Kenny will be bringing his friends Chris Layton and Tommy Shannon, from Double Trouble, and Noah Hunt to Salina for this extraordinary event. The lineup will include some of the world's most talented and best-known blues artists, including Pinetop Perkins, Hubert Sumlin, Steady Rollin' Bob Margolin, Willie "Big Eyes" Smith, Henry Gray, Calvin "Fuzz" Jones, Wild Child Butler, Lazy Lester and Jimmy D. Lane.
This concert is the culmination of a 10-day tour in which Kenny will be filming his visits with some of blues' most legendary statesmen as well as some of the genre's lesser-known but rare and towering talents. He'll be traveling to New Orleans and Shreveport (LA), Indianola (MS), Gadsden (AL), Hillsborough (NC), St. Louis (MO), and wind up in Salina for the live concert. "I'll be playing with some of my music idols and capturing their stories in their hometowns. It is a dream come true for me," said Kenny. "I really feel it is as much a tribute to the masters of the blues as a way to raise money for a foundation, which supports working musicians who deserve more recognition."
The Audio/DVD, which will include the June 18th concert, will be released a few months after Kenny's fourth studio album, due out this September and a substantial portion of the proceeds will benefit MMRF. "There are so many great artists working with us on this project, we hope we can bring a new awareness of the blues to music fans all over the country," said Kenny. Film director Noble Jones will capture each stage of this project on film and record producer, Jerry Harrison (Talking Heads) will produce the audio recording.
Kenny Wayne Shepherd has sold millions of albums worldwide with three straight No. 1 blues albums, a string of No. 1 mainstream rock singles, two 1998 Billboard Music Awards for Rock Track of the Year ("Blue on Black") and Blues Album of the Year (Trouble IS…), two Grammy nominations, one in 1998 for "Trouble IS…" and the other in 2000 for "Electric Lullaby". Kenny also was awarded the 1998 and 2001 Orville H. Gibson Awards for Best Blues Guitarist.
Music Maker Relief Foundation, Inc. is a non-profit organization dedicated to assisting musicians rooted in southern musical traditions with instrument acquisition, tour support, life maintenance, medical, and emergency relief.
For more information:
Contact: Kristin Forbes
(318) 965-5600