Blue Heaven Studios
(Formerly The Salina First Christian Church)
...Continued
Paying the Bill
In a few short years, the depression period made it all but impossible to reduce the debt on the building. However, during the ministry of George I. Meyers, $15,000.00 was raised to refinance a loan for the church building and the purchase of a parsonage.
In 1944 the original mortgage was burned. At the annual meeting in December 1948, during Dr. L.V. Freeman's ministry, there was a mortgage burning to symbolize the total clearance of debt on both church and parsonage.
First Christian Church sells building
By the early 1990s the church had deteriorated and was in need of expensive repair work. The benefits of building a new church clearly outweighed repairing the existing church due to the state funding available for such projects. The congregation had depleted to the point that a facility of this size was no longer economical for them. A new church was built at 2727 E. Crawford. The central panel of art glass depicting Christ was taken from the old church and installed in the new church. Other than the glass panel and a few of the original pews, the original church remained intact. In March, 1996 the First Christian Church of Salina transferred ownership to Chad Kassem.
Chad Kassem purchases church
Chad Kassem, owner of Acoustic Sounds, orginally purchased the old church in downtown Salina for storage of inventory overage from his mail order music catalog business. Though the former First Christian Church retained much of its original beauty it was desperately in need of repairs. Plaster walls were crumbling due to a leaky roof, the heating system was non-functional and the original wiring was more than a bit "iffy."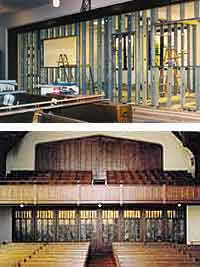 A full-time construction crew was hired to restore the badly decayed walls and repair the roof and heater. On several occations the local building supply stores were completely depleted of plaster. In the end, it would require nearly two tons of dry plaster to repair the church walls.

Despite its condition, the church served its original purpose — to store the warehouse's overflow inventory.

At one point, Kassem even toyed with the idea of making it his residence. But it wasn't until after the purchase that Kassem realized the church's true potential. The spring of 1997 was the beginning of what was to become an Acoustic Sounds milestone.
Engineers test acoustics

The church's naturally occurring acoustics were phenomenal. After consulting with Neil Muncy, David Baker and Joe Harley about a live performance, they came to check out the sound quality. And sure enough it was, as Kassem says, "preem."
The church had obviously been built for good acoustics so everyone could hear His word, but these acoustics were extraordinary, perfect for not only a performance hall, but a recording studio as well.
Muncy was hired to engineer the project. Warren Ediger, a Salina architect, was hired to design the plans for the control room that was to be located at the back of the sanctuary

Muncy arrived in Salina in spring of 1997 for the first in a series of trips to work on the studio design. His notable specialty is power distribution and proper grounding. As a result of his findings, more than $60,000 was spent on a complete new electrical service into the building. Using only the finest panels, breakers and surge suppression equipment, the studio power system was installed. Finally, in order to acheive the highest standard of performance, the city of Salina installed a transformer designated to provide the studio with its own private power source.

The mixing console is a 36-input Neve 5106, purchased from Fox Broadcasting. It was restored and modified for our own special use. More than 1,000 man hours were required to restore it, upgrading thousands of capacitors and op amps.
The studio's recording area is the sancuary whic is 77 feet long, 52 feet wide and 40 feet high. For comparison, Abbey Road Studio One is 94 feet long, 55 feet wide and 42 feet high.

Eight huge oak doors with stained glass insets partition an area that was originally used for congregation overflow. Today, those same heavy doors, 4' 8" by 9' 5", and more than 2 inches thick, now close to conceal a state-of-the-art control room loaded with vintage analogue equipment.

The original structure of the church has remained as untouched as possible. The studio is concealed so well that the church is still utilized by local couples for weddings.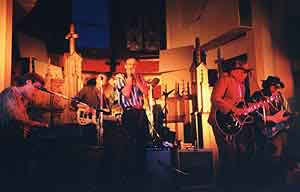 Jimmy Rogers performs concert

By August of '97, much of the aesthetic repair work on the church was done, and construction had just begun on the studio. Kassem brought in Jimmy Rogers, APOs first recording artist, for a live performance. The single performance was scheduled for 8 p.m. on Monday, Aug. 25, 1997, and it was standing room only.

Although referred to as the "former First Christian Church" (it had not yet been named) people found their way to its location in droves for an intimate performance by this legendary blues artist. Seating for 400 was available including the balcony, and there wasn't a bad view in the house.
Blue Heaven Studios christened

It wasn't until early 1998 that the church was officially named Blue Heaven Studios by Joe Harley, producer for AudioQuest and a close friend of Kassem. And how fitting. Kassem's true passion is the blues, and his goal was to record as many remaining blues legends as he could. Of course new talent was sought as well, but with the original blues masters fading, it became clear that there was work to be done.

"There's no great way to say it," Kassem told the Salina Journal, "I want to record them before it's too late."
BHS records first APO albums

As construction continued on the main studio, Muncy worked to create an interim studio. It was located directly below the stage in the church basement, complete with visual and audio communication between the engineer and artist.

On Feb. 14, 1998, APO christened Blue Heaven Studios with its first recording. The artist was Chicago blues great Jimmie Lee Robinson. Kansas City's Little Hatch came to observe Robinson's recording session and ended up laying down tracks for his own recording, Goin' Back. Although the analogue recordings were captured in a temporary studio,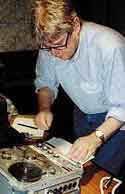 the acoustics in the church were as pure as expected.

"There's nothing like it, " said David Baker, a highly sought-after recording engineer from New York City.
Producers utilize studio

Chad Kassem continues to work towards fullfilling his dream of recording blues legends on his APO label. The studio employs Jimmy D. Lane, Music Director, John Brandt, Engineer/Manager and Julie Hess, Designer/Photographer. The studio can be rented by the hour, the day or the week. There are also package options available to new talent needing recording services and production assistance such as engineering, mastering, photography, design and pressings of LPs and/or CDs.

High-profile producers such as Joe Harley of AudioQuest and John Atkinson of Stereophile have utilized this beautiful church with incredible sound.

John Atkinson of Stereophile states, "Once word gets out about what a great-sounding studio BHS is, you'll be booked solid."