Friday, October 27th and
Saturday, October 28th, 2017


Friday Night: Blue Heaven Studios
201 S. Eighth Street Salina, Kansas 67401
785-825-8609

Saturday Night: Stiefel Theatre
151 S. Santa Fe Salina, Kansas 67401


Purchase tickets to the the Friday night, Oct. 27 Show
This show will be held at Blue Heaven Studios, tickets can be purchased online at AcousticSounds.com or by calling 800-716-3553. This show is General Admission.
Purchase tickets to the Saturday night, Oct. 28 Show (or both nights)
This show will be held at Stiefel Theatre, tickets can be purchased online at stiefeltheatre.org or by calling 785-827-1998. This show is Reserved Seating.
Call 800-716-3553 for Details

Tours of the Acoustic Sounds office, warehouse and Quality Record Pressings plant are from 10 a.m. to 2 p.m. Saturday.
Friday at Blue Heaven Studios:
Jontavious Willis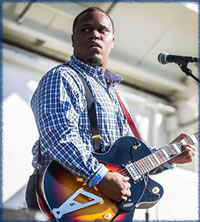 Every generation or so a young bluesman bursts onto the scene. Someone who sends a jolt through blues lovers. Someone who has mastered the craft for sure, but who also has the blues deep down in his heart and soul.

At the age of 20, bluesman Jontavious Willis may be the one.

"That's my Wonderboy, the Wunderkind," Taj Mahal said after inviting Jontavious to play on stage in 2015. "He's a great new voice of the twenty-first century in the acoustic blues. I just love the way he plays."

"When I heard him play I said to myself: this is how the blues, as I know it, is going to stay alive," said Paul Oscher.

Hailing from Greenville, Georgia, Willis grew up singing gospel music at the Mount Pilgrim Baptist Church with his grandfather. At the age of 14, he came across a YouTube video of Muddy Waters playing "Hoochie Coochie Man" and was hooked. That's when he set his course on the blues. All types -- Delta, Piedmont, Texas, gospel. As a fingerpicker, flat-picker and slide player. On guitar, harmonica, banjo and cigar box.

And four years later he was playing on Taj Mahal's stage.

Currently Willis is finishing his studies at Columbus State University, majoring in sociology. But on most weekends you can find him playing a small house show, up on the main stage or posting music videos for his friends and fans around the world.
---
Marquise Knox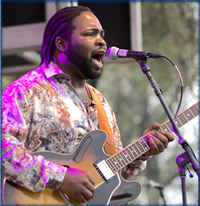 Marquise Knox is a once-in-a-generation type of talent with the voice, the songwriting talent, the guitar chops and the showmanship more kin to peers twice his age.
Born in 1991 in St. Louis Mo, Knox hails from a musical family deeply entrenched in the Blues. He learned how to play guitar from his grandmother Lillie whose family were sharecroppers and whose great, great grandparents were slaves. He also played with his uncle Clifford, who was a major influence in Marquise's life. He spent his early teenage years in St. Louis mentoring under the late great Blues legend, N.E.A. Heritage Fellowship recipient and Grammy Award winner Henry James Townsend. Marquise's talents have earned him performing rights with some of America's most notable blues performers such as late blues legends B.B. King, Pinetop Perkins and David "Honeyboy" Edwards (the latter two also NEA Heritage Fellows). He has also performed at dozens of festivals, and has toured all throughout Europe.
What's new in Knox's world? His hometown haunts this spring have included sets at the Broadway Oyster Bar, and the National Blues Museum, as part of their 'Soulful Sundays' lineup. He also headlines regularly at The Beale on Broadway in St. Louis – the music club is home to local and national acts performing the best in blues, soul and R&B that the city has to offer.
Knox's appearances at Blues Masters are always an audience favorite. His acclaimed albums recorded at Blue Heaven Studios include his debut Manchild, nominated for a Blues Music Award for Best New Artist Debut, his sophomore release Here I Am, and a self-titled, two volume direct-to-disc solo effort and duo recording with Lazy Lester.
---
Lucky Peterson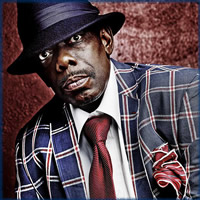 Lucky Peterson played his first gig at age 3. By age 5 he had already recorded his first single, produced by none other than the legendary Willie Dixon. By the time Lucky turned 6, his career had been propelled into the national spotlight with television appearances on "The Ed Sullivan Show," "The Tonight Show with Johnny Carson" and even "What's My Line?"
As a child prodigy, Peterson was somewhat of a novelty act. Now he is a true blues veteran. Over the last three decades, Lucky has played to audiences all over the world, dazzling both fans and critics with his multi-instrumental talents (he plays keyboards, guitar, bass, drums and trumpet), his soulful vocal style and his youthful approach to contemporary blues, fusing soul, R&B, gospel and rock 'n' roll.
Born Judge Kenneth Peterson in 1963, Lucky was raised on music in his hometown of Buffalo, New York, His father, James Peterson, was a blues singer and owner of the Governor's Inn, a northern version of a Deep South "chitlin' circuit" roadhouse club. Artists such as Buddy Guy, Junior Wells, Muddy Waters and Koko Taylor played there regularly. Virtually growing up on stage, little Lucky began playing almost before he began talking.
He started on drums, but after hearing the famed Bill Doggett one night, Peterson became fascinated by the huge Hammond B-3 organ. "Bill had a fit trying to keep me from it," recalls Lucky. After some lessons from Doggett and the legendary Jimmy Smith, Lucky focused most of his musical energy on the organ. In his spare time, he also mastered bass and piano, becoming good enough to sit in with his father's band and back touring artists like Lightnin' Hopkins and Jimmy Reed.
Peterson grew in size and maturity and at the precocious age of 6 he scored a national R&B hit with the Willie Dixon-produced "1-2-3-4." He was doubling on guitar at age 8, and at 17 he signed on as Little Milton's keyboardist for three years.
A three-year stint with Bobby Bland preceded Peterson's solo career launch, which took off when he struck up a musical relationship with Florida-based producer Bob Greenlee. Two Greenlee-produced albums for Alligator, 1989's Lucky Strikes! and the following year's Triple Play, remain a pair of his finest recorded offerings. His discography also includes I'm Ready, for the Verve label; the self-titled Lucky and Double Dealin' for the Blue Thumb label, as well as a number of well-received albums for various other labels. His latest studio album, 2016's Long Nights, is a set of moody late-night numbers.
---
Alabama Slim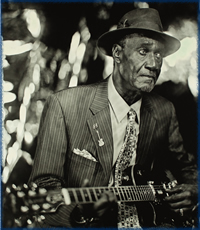 Alabama Slim was born Milton Frazier in Vance, Alabama, on March 29, 1939. His father worked building trains at the Pullman plant and his mother did domestic work. In their home, they had a Victrola and a boxful of 78s- this is where Slim fell in love with the blues of Bill Broonzy and Lightnin' Hopkins.
"I grew up listening to the old blues since I was a child. I spent summers with my grandparents who had a farm. Them old folks would get to moanin' while they worked, and I just started moanin' with them. That's where I learned to sing." — says Slim.
Slim grew up playing in juke joints in Alabama and moved to New Orleans in the '60s. Since joining the Music Maker Relief Foundation, which preserves and promotes musical pioneers and music traditions of the Southern U.S., Slim has performed widely in the States and abroad and he has recorded The Mighty Flood, an album featuring Slim and his cousin, blues guitarist Little Freddie King (who performed at the 2011 Blues Masters).
"I formed a band and we played little juke joints in the '50s and '60s. In '65, I came to New Orleans after hurricane Betsy. Got me a job with a moving company and then one making cooking oil," Slim says.
When Music Maker Relief Foundation founder Tim Duffy first met Slim, Duffy recalls, "I met Alabama Slim in New Orleans while visiting bluesman Little Freddie King. Slim is a towering man, close to seven feet tall. He was very well spoken and dressed in an impeccable tailored suit. He told me he was an old friend of Freddie's and was originally from Huntsville, Alabama. I told him if he ever got back there soon, that he should call me and I will get him into a great recording studio up there."
Impressed by Slim's voice and Freddie's guitar work that danced and followed Slim wherever he went, Duffy later asked the two to come to North Carolina to record. Slim and Freddie visited Music Maker and between fellow New Orleans musicians Slewfoot and Carrie B., they cut The Mighty Flood.
---
Robert Finley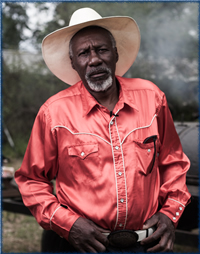 Robert Finley is fond of asking promoters for the closing spot on the bill "because the party's going to go as high as it's going to go when I'm playing." From someone else's mouth that might be braggadocio, but when Finley says it, he's just telling the truth. Onstage, he's infectious. It's the whole package—his sound, his songs, his energy, his look. Hailing from Louisiana, he mixes a Memphis-to-Texas electric southern grit with Nashville-clever songs. He's gangly and graceful with an indomitable smile that radiates beneath his black ridge-top hat. "I don't believe in doing a lot of holding back," Finley says, "I'm going to give you everything I've got."
Finley came up singing gospel, the only kind of music his parents would allow. His palette expanded quickly, however, through hanging out with older guys and trying to meet the demands of impressing the opposite sex. At 11, he took some money his father had given him to buy shoes and bought a guitar instead. With his friends, he starting making stuff up—rhymes and melodies, "whatever it took to keep the girls around," he says. Words have always come easily to him. "Once I get the music, the lyrics just come natural," Finley explains. "All you've got to do is look around. Just about anything you'd want to write about, somebody's going through it. It's hard to miss. Every day is a song, really."
Finley started leading his own band while serving in the Army. They had a big repertoire, but specialized in soul and R&B—songs by Joe Simon, Tyrone Davis, Isaac Hayes, Marvin Gaye. Both the U.S. servicemen and the European crowds loved it. After his discharge he sharpened his solo act and sought gigs while keeping a daytime occupation as a carpenter and homebuilder.
Now legally blind, he can no longer build houses. He can still tear them down though, so the Music Maker Relief Foundation is working with Finley to keep the gigs coming and help connect him to new audiences. In 2016, he made a splash playing with the Music Maker Revue at the prestigious Globalfest in New York City, gaining critical praise from NPR and The New York Times.
"Here I am at my age, just now fulfilling my childhood dream," Finley says with his warm and ever-present smile. "It's like the song says, 'Age Don't Mean a Thing.' See, you've got to hold to your dream; don't ever let somebody tell you what you can't do."
---
Saturday at The Stiefel Theatre:
Doug MacLeod
(your emcee and also performing)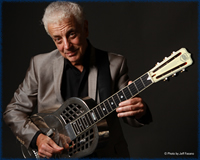 Testify, brothers! For the third time in four years, the Blues Music Awards awarded consummate bluesman and enthralling storyteller Doug MacLeod their 2017 Best Acoustic Artist at the ceremonies held in May in Memphis, Tennessee.
MacLeod is a singer-songwriter in the American tradition. He is a traveling artist who writes and sings original songs that are based on his own life and experiences. He learned from the old masters, lived the music, survived the life and carries forward a valuable tradition.
July saw the release of his newest album, with Reference Recordings, Break The Chain, in which Doug teams with his son, Jesse, focusing on breaking the cycle of family violence and abuse. A powerful concern all too many are familiar with, Doug and Jesse confront this pervasive issue directly and personally, bringing it out of the shadows.
MacLeod, a perennial Blues Music Award nominee, showcases a unique, unorthodox and powerfully rhythmic acoustic guitar style using National Reso-Phonic instruments, including a 12-string, and his old Gibson C-100, the guitar he calls "Little Bit" because each time he plays her a little bit more of her falls off!
As a youth he overcame abuse and a crippling stutter by turning to music. After he picked up a guitar, and tried to sing - he found his voice. The rage of his turbulent youth was eventually channeled through his guitar, using his relentless right hand to pound out an insistent, churning beat to complement his intricate bottleneck and finger-style technique.
MacLeod's playing landed him sideman gigs with George "Harmonica" Smith, Big Joe Turner, Pee Wee Crayton, Eddie "Cleanhead" Vinson, Lowell Fulson and Big Mama Thornton. Under their tutelage, he learned how to thrill and enrapture a crowd.
Over the course of 30 years, 18 studio albums, several live records, compilations and two DVDs, MacLeod has consistently earned raves. His songs have been covered by many artists including Albert King, Albert Collins, Joe Louis Walker and Eva Cassidy. He has co-written songs with Dave Alvin and Coco Montoya. MacLeod's songs have been featured in many TV movies and the hit show In The Heat of the Night. Two of his songs are on Grammy-nominated albums by Albert King and Albert Collins.
Of course, Doug is a long-time favorite performer and emcee of Blues Masters at the Crossroads when called upon. We're excited to have Doug back at the microphone emceeing the 20th Anniversary performance.
In every note he performs and records, MacLeod subscribes to the rule-of-thumb learned from country bluesman Ernest Banks from Toano VA. who instilled in him to "Never play a note you don't believe", and "Never write or sing about what you don't know about."
---
Charlie Musselwhite with Marquise Knox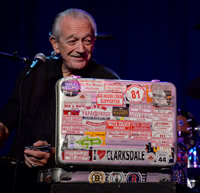 Charlie Musselwhite may be the only musician to get a huge ovation just for opening his travel sticker-covered briefcase. Fans know that's where he keeps his harmonicas and they're about to hear one of the true masters work his magic on the humble instrument.
Mussselwhite was born in Mississippi and raised in Memphis, where he witnessed the rise of Elvis Presley, Johnny Cash and Jerry Lee Lewis. He migrated to Chicago, making the acquaintance of even more legends, including Muddy Waters, Junior Wells, Sonny Boy Williamson, Buddy Guy, Howlin' Wolf, Little Walter, and Big Walter Horton. He also forged a lifelong friendship with John Lee Hooker.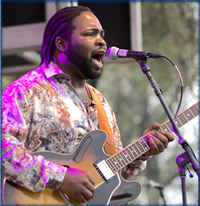 In 1966, Musselwhite joined the electric blues explosion with his debut album on Vanguard Records. Since then, he has recorded more than 20 albums and guested on many others. He has won 14 W.C. Handy Awards, and has been nominated for nine Grammy Awards — in 2014 he and Ben Harper accepted the Grammy for Best Blues Album for their collaboration Get Up. Musselwhite is also the recipient of Lifetime Achievement Awards from the Monterey Blues Festival and the San Javier Jazz Festival in San Javier, Spain, and he received the Mississippi Governor's Award for Excellence in the Arts.
In 2016, Blues Masters at the Crossroads welcomed Musselwhite and blues guitarist Elvin Bishop to the Stiefel Theatre stage for a masterful musical history of the blues, from its acoustic roots to its flowering as urban music in the 1960s.
---
Special Presentation: Take Me To The River - Memphis Soul and Rhythm & Blues Revue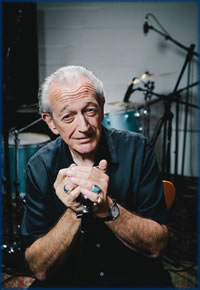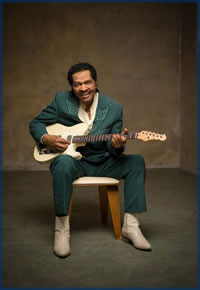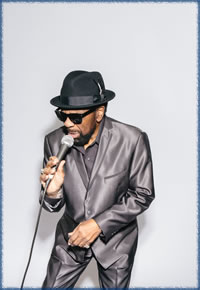 Take Me to the River presents a live performance experience based on the award-winning film and record that brought together multiple generations of iconic Memphis and Mississippi Delta musicians to record a historic new album and re-imagine the utopia of racial, gender and generational collaboration of Memphis (Stax, Hi Records) in its heyday. This historic show features a once-in-a-lifetime chance to see legends William Bell (2017 Grammy Winner), Bobby Rush (2017 Grammy winner), and Charlie Musselwhite (2014 Grammy winner) share the stage and perform classics and new TMTTR collaborations.

Backed by an ALL-STAR Memphis band, the event includes the Hi-Rhythm Section (27 Gold and Platinum records, All of Al Green's classics) and Grammy award winner Boo Mitchell, award-winning
director and Grammy Nominee Martin Shore, alumni from the STAX Music Academy, and special appearances from Academy Winner Frayser Boy and Critics Choice Award winner Al Kapone.

In addition to a traditional performance event, Take Me To The River hosts educational workshops and activities as it moves around the country, interacting with students and helping to inspire the goals of social consciousness and community building.

TMTTR believes that the power of positive expression - through music, film or other art forms - builds a permanent foundation of community, and helps motivate those from all political, racial and generational backgrounds to communicate, cooperate, collaborate and create together. Find out more at www.TMTTR.com

TMTTR headliners Charlie Musselwhite, Bobby Rush and William Bell: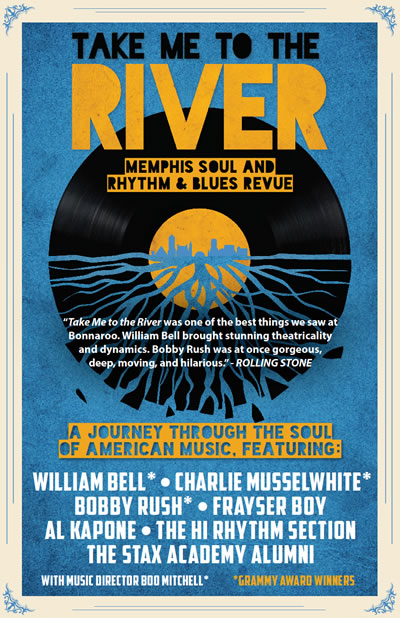 ● Grammy winner Charlie Musselwhite was born in Mississippi and raised in Memphis, where he witnessed the rise of Elvis Presley, Johnny Cash and Jerry Lee Lewis. He migrated to Chicago, making the acquaintance of even more legends, including Muddy Waters, Junior Wells, Sonny Boy Williamson, Buddy Guy, Howlin' Wolf, Little Walter, and Big Walter Horton. He also forged a lifelong friendship with John Lee Hooker. His 50 years of nonstop touring, performing and recording his harmonica playing have reaped huge rewards. Musselwhite is living proof that great music only gets better with age.
● Bobby Rush earned his first gold record in 1971 with a hit entitled "Chicken Heads." His astonishing 60-plus year career in the blues has been marked by three Grammy nominations (he took home his first Grammy, at age 83, in February 2017), as well as 10 Blues Music Awards and 41 nominations. He was inducted into the Blues Hall of Fame in 2006. He's known far and wide for putting "the funk" into blues, and as Dean of the Blues and the King of the Chitlin Circuit. When it comes to Bobby Rush and his blues, you almost feel as if you're living every word, note and foot stomp of his music.
● William Bell, soul singer and songwriter, is probably best known for his debut single 1961's "You Don't Miss Your Water" and 1968's top 10 hit in the U.K. "Private Number", a duet with Judy Clay. He wrote "Born Under a Bad Sign" with Booker T. Jones, a tune first recorded by Albert King. Eric Clapton and Cream — among probably hundreds of others — have covered the song as a blues staple. Bell was an early signing by Stax Records, the same legendary label that later released recordings by Otis Redding, Sam and Dave, Isaac Hayes, and The Staple Singers. Bell's 1961 solo debut for Stax, "You Don't Miss Your Water (Until Your Well Runs Dry)," became one of the fledgling label's first major hits. The song is now considered one of the finest early examples of soul music, and was covered by many artists, including Otis Redding and The Byrds. One of the last of the original soul singers still standing, his quintessential voice and evocative performances still wow audiences all these years later.


---
CJ Chenier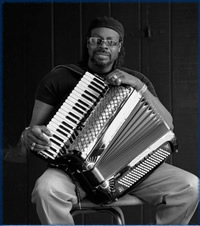 C. J. Chenier, the Creole son of the Grammy Award-winning "King of Zydeco," Louisiana musician, Clifton Chenier, joined his father's Red-Hot Louisiana Band playing saxophone at the age of 21. After Clifton's death in 1987, C.J. picked up the accordion and took charge of his father's ministry — to spread the word of Zydeco music — a blend of Cajun and Creole music — to the world.
Chenier grew up in the 1960s, in the housing projects of his native Port Arthur, Texas. There, he developed tastes for the 1970s soul, funk and jazz music of James Brown, Funkadelic, John Coltrane and Miles Davis. Upon first listening to his father's music, Chenier thought all the songs sounded the same. But he eventually began to appreciate and master the zydeco style.
Chenier has pushed the genre to new heights with his virtuosity. The Boston Globe has called him "the crown prince of zydeco," and Living Blues magazine hails him as "the best living zydeco singer and accordionist." His musical style ranges from the traditional Zydeco of Clifton Chenier right on up to modern funk with healthy doses of blues, R&B, swamp pop and even country. C.J.'s total mastery of the accordion combined with his rich, satisfying voice are the driving forces behind this power-house zydeco band.